Nintendo revealed at an investor and analyst presentation last week that the company was working on a free to play game. It is not a Mario or Pokemon game, or any of the company's popular video game series. Instead, the game will be one that consumers might not feel the need to exchange cash just to play it. It sounds like a terrible game, however, let's not judge the book by its cover just yet.
According to IGN, the first free to play video game will be called "Steel Diver". There is already a Steel Diver video game available for the Nintendo 3DS, however, it will not be the same. Instead, the game will have a similar concept and a different design. We're also unsure as of this date what Nintendo systems the game will be available for.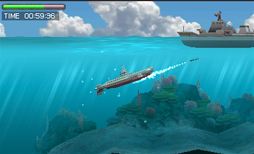 ( Original Steel Driver Nintendo 3DS gameplay screenshot )
The original Steel Driver Nintendo 3DS gameplay :
Video credit : Nintendo.
The video above shows gameplay of the original Steel Driver Nintendo 3DS game. The free to play Steel Driver will be different, according to IGN.
Some words from Miyamoto :
"There is something we're doing with the Steel Diver idea that I think is going to open things up with that game… It's going to be very fun. We're exploring from a perspective of where we can take that from a multiplayer standpoint – it's going to have this four-player battle mode that I think is going to be very interesting," Miyamoto told IGN.
The multiplayer sounds very interesting. This free to play game will be released sometime before April, 2014. During the conversation between Miyamoto and IGN, Miyamoto said that he is hoping to show the game relatively soon.