After you find the reference room and solve the path puzzle in the game, eventually you will discover some switches on the floor that you need to press in a certain order to unlock a door on the 2nd floor (2nd story) of the Evil Spirit Club labyrinth in Persona Q.
This tutorial lets you know which switches to press in the correct order.
Navigate to the highlighted area in the map screenshot below :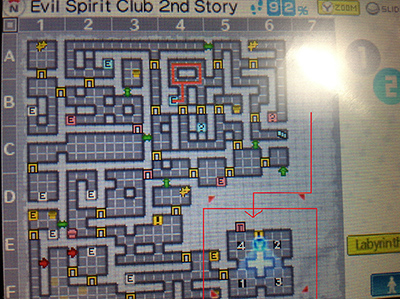 As you can tell, there are number symbols showing you which switch to step on first. You should mark those numbers down on your map and if you're having any difficulty finding the correct spot on the map, press the "N" symbol on the bottom screen of your 3DS. The Lovely Doll FOE lurks in that room, therefore the first thing you should do is press the light switch which is located at the yellow exclamation mark symbol on the map.
After pressing the switches from 1 to 4 as shown in the screenshot above, go to the red locked/shut door symbol in that room to open it and progress in the game.
Do you still need help?
If you're still having problems with finding your way around in the game, feel free to sign up for an account at our Nintendo forum and create a topic in the SMT/Persona Q section of the forum to ask for assistance and someone should help you eventually.