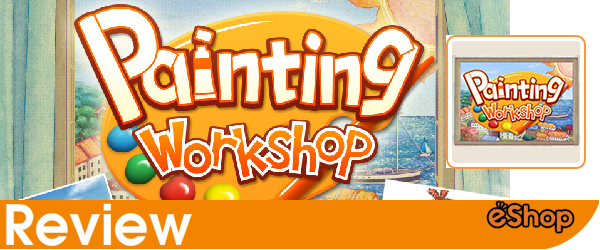 Collavier Corporation released Comic Workshop last year, and early this year, they released another art app called Painting Workshop. I only assumed that this new app would share the same function with its sister – as a painting media, not tutorial. But I was surprised to find that Painting Workshop is only a slightly different version from Comic Workshop – this happened since I already owned and reviewed Comic Workshop before. Well, let's take a look on what Painting Workshop can do.
Just like its sister, Painting Workshop has no tutorial on how to paint something. It is your canvas to spill the creativity out of your mind. It provides similar tools to Comic Workshop, but since it serves no purpose other than painting, you will not see panels – but a plain 640×480 pixel canvas. It is simpler because you do not have to go through two-steps of processing your creation. Only one: just paint what you want – from an iota to finish.
There are various tools enough for you to paint fine pictures: RGB color system to choose on your own, five-layers per canvas (just combine two layers if you want to add more), and the helping X Y button shortcut is also available here. The anti-aliasing switch feature is missing here. After comparing with Comic Workshop, I found that in Painting Workshop, anti-aliasing is default (so you cannot turn it off).
Two new additions to Painting Workshop are (1) themes and (2) picture importing. You can choose available themes – from classic wood to futuristic one – before starting your project, that will appear as your "desk". Picture importing is used to copy and modify a picture you already have in your SD card. If you have your Mii avatar, for example, you may want to add details to one part and modify the other. You can do it via picture filling and picture drawing, and then save it as a new picture. Remember that it would be better if the picture you are going to import has the same resolution with Painting Workshop's exported file.
Painting Workshop actually shares the same fine quality (and also its flaw) with its sister, and as a stand-alone title, it would be a perfect app. Unfortunately, it copies almost all things from Comic Workshop, even every BGM (also the one you will hear when choosing the app from the Menu). And since I already have Comic Workshop, this app feels unoriginal. Still, beautiful pastel-colored interface and cheaper price are appreciated. If you want to paint something other than comic, then Painting Workshop is a perfect choice. You may purchase it for $4.99 in the Nintendo 3DS eShop.