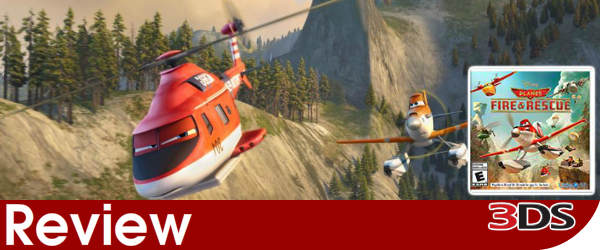 I have a personal concern for license games, since how game developers create games based on media (film or novel) matters. What do game developers want to capture by creating license games? Little Orbit has their ongoing kitchen for publishing license games, and now it is the time for Planes: Fire and Rescue to come along. It is a right time, too, for me to take a peek to understand the circumstances around license games, particularly Planes: Fire and Rescue.
To make it brief, Planes: Fire and Rescue (film) is a sequel of Planes, and once again a game is made based on the film (previously, Planes, too). Developed by Game Machine Studios, Planes: Fire and Rescue takes you to help Dusty, Lil' Dipper, Blade, and others extinguishing fire in Piston Peak. Each characters have their own roles: navigation, extinguisher, fire retardant, lifter, and so on. Unfortunately it is barely a fire-extinguishing simulation, so do not expect something complicated from the missions.
The game is divided into two parts: Academy Mission and Rescue Mission. Academy Mission takes you to the introduction and how-to in the game; it serves as training mode. But it does not stop only as practice, since there is Achievement system to unlock more missions, and also galleries. Each mission needs you to complete in a limited time – a time trial – and the quicker you finish the objectives, more stars you will gain.
Rescue Mission is basically a story mode in Planes: Fire and Rescue, begun with conversations between respective characters before the game is started. More realistic fire-extinguishing action serves you here, since you will act as a team – though you will control plane and helicopter one-by-one. It is recommended to complete Academy Mission first to grasp the idea about fire-extinguishing.
The gameplay itself is simple: you control plane or helicopter on Piston Peak's sky, taking water from lake into tank, lifting survivors, and spraying some liquid to extinguish fire or keep the flame from spreading throughout the forest. Control is a real matter in Planes: Fire and Rescue, since you could not just turn left or right easily. Accurate position and time to spray liquid becomes a challenge in this game. Though you will get navigation point – where-to-go arrows – you might need several circles and turns to your desired destination.
Else, the game turns into a standard game: both soundtrack and the graphics. Although they make nice 3D graphics to enjoy, the actual trees burning look more like cardboxes than other real trees planted in Piston Peak. The environment preserved lacks realistic textures, unfortunately. And the game premise itself does not promise anything exciting other than… extinguishing fire. The flame is not contagious. Nevertheless, you may purchase Planes: Fire and Rescue (3DS) for $29.99.