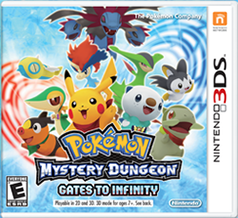 | Region | Release date |
| --- | --- |
| North America | March 24, 2013 |
| UK/Europe | May 17, 2013 |
| Japan | November 23, 2012 |
Pokemon Mystery Dungeon: Gates to Infinity is a dungeon crawling video game for the Nintendo 3DS that was developed by Spike Chunsoft and published by Nintendo. Like previous Mystery Dungeon games, Gates to Infinity begins with the player having a weird dream and waking as a Pokemon.
Useful Links :
This review is not available yet, sorry.
60 out of 100
Metacritic MetaScore
The game features a turn based combat system where each Pokemon attack in turns – the winning side is decided depending on the Pokemon's overall stats and the moves that they use. Gates to Infinity heavily features Pokemon from the Unova region, and there is a limit of 144 recruitable Pokemon in the game – the list can be found at Serebii.
Starter Pokemon to choose from in Pokemon Mystery Dungeon: Gates to Infinity :
Pikachu (electric type)
Oshawott (water type)
Tepig (fire type)
Snivy (grass type)
Axew (dragon type)
Legendary, non-recruitable Pokemon in Pokemon Mystery Dungeon: Gates to Infinity :
Lugia
Ho-Oh
Reshiram
Zekrom
Kyurem
Kyurem
Kyurem
Downloadable Content (DLC)
Both free and paid downloadable content (DLC) are available for the game. The downloadable content are mostly additional dungeons to explore.
Multiplayer Gameplay – Companion Mode and Local Wireless
Pokemon Mystery Dungeon: Gates to Infinity does not support Wi-Fi gameplay, however, it includes local wireless multiplayer gameplay. In Companion Mode, the player can temporarily switch to a recruited Pokemon as the main player. Once in Companion Mode, the player will be unable to leave Pokémon Paradise. However, Cinccino, Rampardos and Cofagrigus from Post Town will be there to function as individual shops.
Note : up to 3 players can explore the game's dungeons together in multiplayer.
| Questions | Answers |
| --- | --- |
| Wi-Fi Multiplayer Gameplay | No |
| Local Multiplayer Gameplay | Yes |
| Game Available at eShop | Yes |
Pokemon Mystery Dungeon: Gates to Infinity Game Trailer :
Video credit : Nintendo UK Official.