Tuesday, the official Pokemon X and Y gameplay trailer was revealed on YouTube. The trailer showed off Pokemon battling, the 3D world, how the main character can sit on a chair, and let's not forget – cars. Yes, cars. I know that I skipped Pokemon Black and White (and B2/W2) but I never expected a Pokemon game to have cars that people can drive in. Maybe players might be able to test drive one of them during the gameplay – who knows?
Have a look for yourself – Pokemon X and Y Gameplay Trailer :
Video credit : Pokemon.
That's not all of the news that we have to share. In a press release, more details about the game was revealed. Apparently, there will be a Kalos Region in Pokemon X and Pokemon Y games. The quote below is how the press release describes this new region :
A mysterious place that is shaped like a star, Kalos is a region where players will encounter beautiful forests, thriving cities, and many never-before-seen Pokémon. The central city of this breathtaking region is Lumiose City, a metropolis featuring a tower that is set to become an iconic structure in Pokémon X and Pokémon Y.
Have a look at the game's Kalos region map for yourself :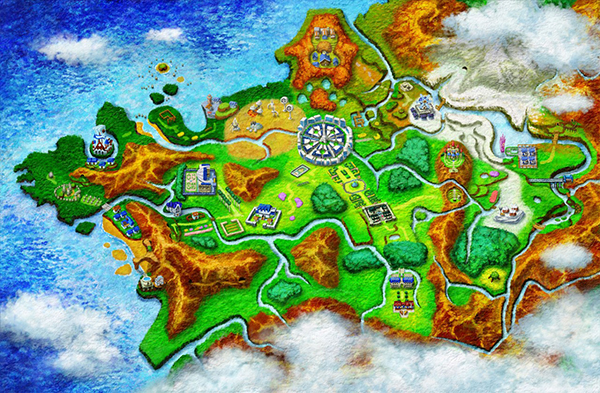 ( The photo above shows you the Pokemon X and Pokemon Y Kalos region map )
Pokemon X and Pokemon Y are set to launch in October this year. I'm still debating on which version of the game to pick up, however, I'm definitely getting one for those competitive Wi-Fi battles. Be sure to bookmark this website because I might just give away some good EV trained Pokemon – after I get my hands on the game, of course.