Who doesn't like Puzzle games? Well, with the advent of Smartphones, puzzle games have become a big deal. Casual gamers and hardcore gamers both like puzzles. Everyone likes puzzle when they're simple yet challenging. Today, we review Robot Rescue 3D by Teyon games, the game with a different take on puzzle genre.

Gameplay
In Robot Rescue 3D you're in control of different robots that need to escape the room/labyrinth they're stuck in. It's fairly simple, you guide the robots to the Exit gates and stage clear. However, there's a BIG catch! When you move a single robot, all robots move in the same direction with it. This means if you're moving one robot to the Exit gate, you might be moving a couple others into hazards like bombs, etc. This is where your strategy will play an important role. Thinking ahead of time is crucial in Robot Rescue 3D.
In the beginning, you'll face easier challenges with 2-3 robots and a single Exit gate but as you progress so will the difficulty of game. You'll have to use different tactics to help your robots reach their goal which include painting them different colors to pass through different doors, slowing them down with glue, etc. If you think hard enough, you'll master each level without a problem. Sometimes you'll have to use the old school way of trial and error to plan your moves.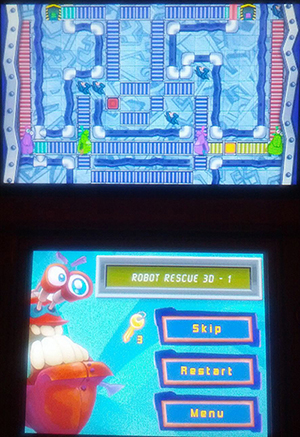 Robot Rescue 3D Gameplay for Nintendo 3DS
Visuals
Robot Rescue 3D offers cute cartoon-ish visuals similar to that of many popular smartphone games. The graphics could've been a bit more sharper but that doesn't take away from the overall gameplay experience. Music on the other hand is a bit darker considering the game's cartoonish feel. The only complaint I have regarding the music is the sound that robots make while moving, it feels good for the first few minutes but eventually you'll start getting annoyed by it.
Controls
No touch controls for the game, so don't get excited. You can use the D-pad to move your Robots in any of the four directions. You can also use any of the four buttons to perform the same movements as the D-pad. Controls are simple and straightforward for even beginners.
Verdict: Robot Rescue 3D – Fun Yet Highly Challenging
In the end, I would like to say Robot Rescue 3D is a great puzzle game with highly challenging levels. My single complaint about the gameplay would be the difficulty level, even Level 1 is quite difficult and there are no tutorials or hints to show you what to do. Apart from that, the game provides a decent challenge for all puzzle fans.
Robot Rescue 3D comes bundled with Robot Rescue and Robot Rescue 2, so my advice would be to play the first 2 games instead of jumping right into the 3rd sequel. This way you'll have more practice and know-how about the game. Robot Rescue 3D is available for $2.99 on Nintendo eShop or you can get a copy from my Robot Rescue 3D Giveaway.