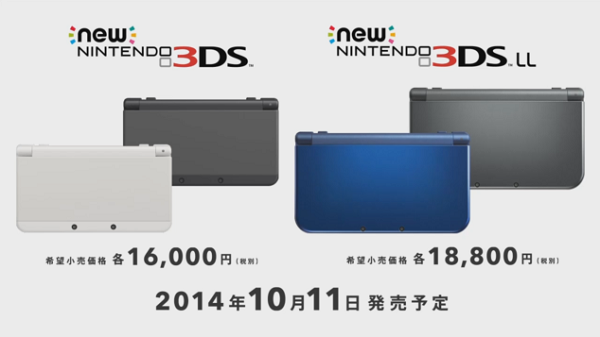 It's time to reveal all the differences between the old and new Nintendo 3DS and XL systems:
HARDWARE DIFFERENCES:
Two more buttons: ZL and ZR triggers.
Extra analog stick, called C-Stick. It will work as a Circle Pro Pad on 3DS titles.
Faster download capabilities from eShop.
Faster CPU (no information about GPU or RAM yet)
Improved 3D effect using the console's front camera and gyroscope.
NFC Reader and Writer, being fully compatible with Amiibo.
Slightly extended battery.
Changeable shell.
Micro-SD slot (up to 32gb) instead of SD Card.
Game Slot on front side.
Buttons colors based on SNES controller.
No Wi-Fi switch, it can be done from Home Menu.
SOFTWARE DIFFERENCES:
Fully compatibile with N3DS, 3DS, DSi and DS Games.
Internet Browser has HTML5 support, video playing, censor filter.
microSD management with a Wireless app.
3DS software can be transferred to N3DS (no N3DS to 3DS support)
Enhanced Home Menu.
COMPARISON ON OTHER HARDWARE DIFFERENCES:
2DS:
Dimensions: 127 mm high x 144 mm wide
Closed: 20.3 mm thick
Screen Size: Upper: 3.52 inches – Lower: 3.02 inches
Battery: 3.5 to 5.5 hours (5 to 9 hours on DS mode)
Weight: 260 grams
Pencil Place: Right Side
SD Slot Place: Right Side
Power Button Place: On lower screen side.
NFC: With adapter
Sleep Function: With switch
Speaker: Mono
Price: $147
3DS:
Dimensions: 74 mm high x 134 mm wide
Closed: 21 mm thick
Screen Size: Upper: 3.52 inches – Lower: 3.02 inches
Battery: 3.5 to 5 hours (5 to 8 hours on DS mode)
Weight: 235 grams
Pencil Place: Up Side
SD Slot Place: Left Side
Power Button Place: On lower screen side.
NFC: With adapter
Sleep Function: Closing console
Speaker: Stereo
Price: $148
3DS XL:
Dimensions: 93 mm high x 156 mm wide
Closed: 22 mm thick
Screen Size: Upper: 4.88 inches – Lower: 4.18 inches
Battery: 3.5 to 5.5 hours (6 to 10 hours on DS mode)
Weight: 336 grams
Pencil Place: Right Side
SD Slot Place: Left Side
Power Button Place: On lower screen side.
NFC: With adapter
Sleep Function: Closing console
Speaker: Stereo
Price: $180
N3DS:
Dimensions: 80.6 mm high, 142 mm wide
Closed: 21.6 mm thick
Screen Size: 3.88 inches (Touchscreen: 3.33 inches)
Battery: 3.5 to 6 hours (6.5 to 10.5 hours on DS mode)
Weight: 253 grams
Pencil Place: Front
SD Slot Place: Front (Micro SD behind shell)
Power Button Place: Front
NFC: Yes
Sleep Function: Closing the console
Speaker: Stereo
Price: $154
N3DS XL:
Dimensions: 93.5 mm high, 160 mm wide
Closed: 21.5 mm thick
Screen Size: 4.88 inches (Touchscreen: 4.18 inches)
Battery: 3.5 to 7 hours (7 to 12 hours on DS mode)
Weight: 329 grams
Pencil Place: Front
SD Slot Place: Front – (Micro SD behind shell)
Power Button Place: Front
NFC: Yes
Sleep Function: Closing the console
Speaker: Stereo
Price: $180