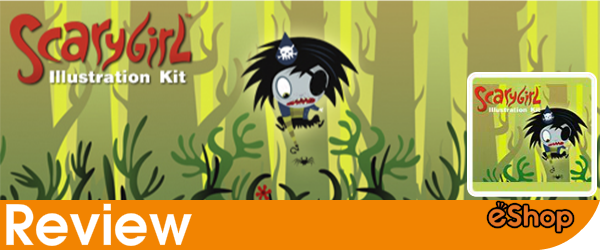 Title: Scarygirl Illustration Kit
Developer/Publisher: Square One Games
Release Date: November 13, 2014
Price: $5.99
Even though Flipnote Studio has failed to materialize since the Triassic era (defined as "before the Rolling Stones' first tour"), there are some drawing applications like Colors! 3D that really show how well the 3DS can function as a canvas for talented artists.
Scarygirl Illustration Kit is a vector drawing application that's a spin-off of the platformer video game Scarygirl. The game's presentation features (rather excellent) art from the game, but this is simply a drawing and animation kit for 3DS owners, not a game. Using it, you can make drawings and simple animations with your 3DS and then export them to your 3DS's SD Card.
The character Bunniguru takes you through four excellent tutorials on how to draw and create animations, and then you are cast on your own imagination. When you draw a line or shape, the app converts it into vector form, allowing you to manipulate its position, colour it if it's a closed shape, and put frames together to make animations.
Although the presentation is excellent – the art, the menus, the well-designed tutorials – the actual functioning is quite cumbersome. You have to go back and forth a lot between the options for drawing lines, curves, selecting shapes, etc. There are no hot-keys either to make it easier; the buttons have no function.
You can only fill closed shapes, and the app treats lines you drew closed but using the standard line option instead of the closed-shape option as open lines, which means you can't fill them with colour. On the other hand, the animation is a lot smoother between frames than any other app I've used. It's both more or less functional than MS Paint.
Scarygirl Illustration Kit may give you all the tools for making great drawings and animations, but in such a disorganized way that anyone with less patience than an artist or fisherman won't be able to make the most of it. It's worth a look if you're already a very skilled artist, but if you're not very good at drawing then this app won't really help you along.
Overall Score: 6/10