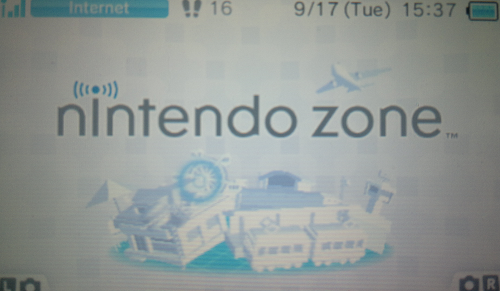 Maybe you already knew about this service. You can watch trailers, some Pokémon content, and download the same game demos that are available from the Nintendo eShop. Also, there is now a StreetPass relay point function so that you can bring your friends to your house one day, and have them on your Mii Plaza forever.
You only need two things to do it:
A Wi-Fi router connected to the Internet.
A way to configure it and change settings.
Now that the most of the important thing are out of the way, you may be wondering what configuration to enter. The first thing to do is disable the protection and delete the password. If you use Internet all the time, I recommend to change the Wi-Fi for using Nintendo Zone only when you want to use it because your neighbors can steal your signal.
Now, here is it:
1st configuration: Worldwide
SSID: attwifi
Password: (Nothing)
Protection: (Nothing)
2nd configuration: Europe Alternative (If the first one don't work)
SSID: _The Cloud
Password: (Nothing)
Protection: (Nothing)​
3rd configuration: Europe 2 Alternative (If the two options doesn't work)
SSID: free-hotspot.com
Password: (Nothing)
Protection: (Nothing)​