A new SMT game is coming to the Nintendo 3DS, titled Shin Megami Tensei IV: Final, and no, it's not going to be a remake or downloadable content for the original Shin Megami Tensei IV game. Instead, it will be its very own game based in the same world available for the Nintendo 3DS with a keyword "God Killing".
Japan will have the first set of players to get their hands on the game for 6,480 yen beginning on February 10th, 2016. No official word about a West release has been revealed yet.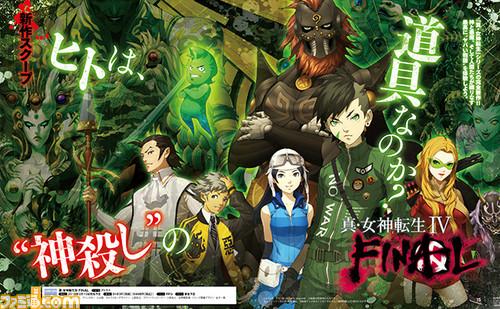 A teaser site (megaten4.jp) has been launched and a live stream is expected on October 11th at 7 PM in Japan. During the live stream, more information regarding the game will be revealed.
The game will be directed by the chief programmer of Shin Megami Tensei IV, otherwise known as Satoshi Oyama. Its producer will be Issen Yamai, the director of Shin Megami Tensei IV. The character designer will be Masayuki Doi who held the same position for SMT IV, and its sound composer will be none other than Ryota Kozuka, the same sound composer for the SMT IV game. Kazuma Kaneko is listed as the scenario, worldview and series demon designer.
For the moment, you can check out our Shin Megami Tensei IV review and be on the lookout for discounts via eShop.