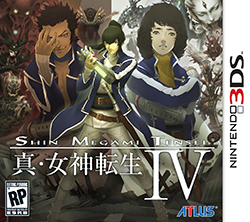 | Region | Release date |
| --- | --- |
| North America | July 16, 2013 |
| UK/Europe | TBA |
| Japan | May 23, 2013 |
Shin Megami Tensei IV is a role-playing video game for the Nintendo 3DS that is in the Megami Tensei series. The game was developed by Atlus, and is available for the Nintendo 3DS in North America and Japan. The game is the first in the series to include full voice acting.
Useful Links :
87 out of 100
Metacritic MetaScore
The game is priced at $50 US, and people who purchase it during the first printing should receive the Shin Megami Tensei IV limited edition box set. The limited edition box set includes the Shin Megami Tensei IV game, a 176-page strategy and design book, a deluxe-sized collectible slipcase, and the game's music collection CD. The game is also available as an eShop digital download.
During the gameplay, players can fight demons, talk with demons, recruit demons, and fuse demons to form a new demon. The game's main character and demons both have the ability to level up and increase their strengths. The protagonist can purchase apps using App Points for a better gameplay experience. The game also has free and paid DLC.
List of SMT 4′s Downloadable Content :
Visage Pack
White Samurai Apparel
Experience of the Afterlife
Symbolic Equipment
Underworld Money-Maker
Death Has Its Applications
Overlord Equipment
Clipped Wings 1
Snake Scale Equipment
Clipped Wings 2
Note: Some DLC may be available for free for a limited time only.
| Questions | Answers |
| --- | --- |
| Wi-Fi Multiplayer Gameplay | No |
| Local Multiplayer Gameplay | No |
| Game Available at eShop | Yes |
Shin Megami Tensei IV Game Trailer :
Shin Megami Tensei IV Tips and Tutorials