Another Level-5 game fell into my love. Many Guild02 games focus on story rather than gameplay. The Starship Damrey defies what constitutes Level-5's brand that has been bringing games with  a light atmosphere. Two people, Kazuya Asano and Takemaru Abiko, offered us a rather dark, suspense theme. They are famous for Banshee's Last Cry, and thus brought novel-type game into popularity in Japan. The Starship Damrey twists the text-based adventure game pioneered by them with interactivity and stuff, thanks to the 3DS feature.
You are the prey in Starship Damrey. Thanks to the suspended animation, you are awaken with temporary amnesia, plus trapped in a locked-sleeping capsule. Without further hints, we have to escape by learning about the starship structure remotely. The starship is provided by robots, and thus we explore the ship using one of those. Using dungeon-crawling concept, Starship Damrey serves a 1st-person view environment to embrace in both ambience and silence.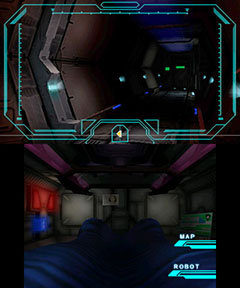 I was amazed by the introduction. The game showed me that most of my efforts to escape, even to identify myself (the main character, that is, you) as a crew of the starship to the computer. The AI concierge was good enough to let me slide as a guest and all I got was a stiff robot. That was okay – at least I could learn about the starship, as well as to escape myself from the sleeping capsule. Operating the robot is a different case. There are details to seek and find using a simple point-and-click feature while progressing throughout the game. One of them is… to kill some leeches. Complete this, and you will be rewarded. There are slight different endings depending on whether you can get all items and complete all objectives.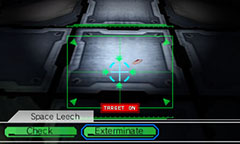 The Starship Damrey has awesome twist to engulf, then to be choked afterwards. It is a suspense and surprising, after all. Kazuya Asano and Takemaru Abiko once again worked together to develop another novelty, even it is not excellent. The game spreads some puzzles, but unfortunately most of them are easy to solve. Spending $7.99 in Nintendo eShop for this game is a wise move, especially if you are into this genre. Food for thought: better to play The Starship Damrey at night, and a headphone is really recommended.
Verdict: 4/5