Who needs games with real-looking cars such as Need for Speed when we have toy replacements? Put a couple of toy cars on a tabletop with a dash of Mario Kart style gameplay and you have Super Toy Cars. The real question is whether to buy or not to buy.
Tutorial, Controls and Gameplay
The first real thing that you realize after launching the game is its tutorial. The loading screen shows you the game's controls while you wait which is actually nice because it takes away the boring aspect that most games suffer from in this department. Reading text in the game can be a bit difficult due to the font used and its small text size. Yes, it's awful and it's probably because the developers decided to use all CAPs in sentences, therefore it will definitely help give most gamers a tough time reading.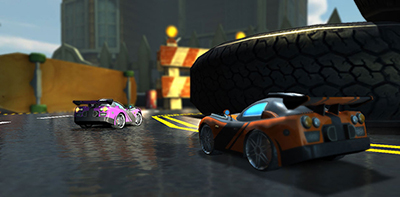 The controls aren't terrible, however, they aren't the best either. If you've played a lot of racing games in the past, you may take a couple of minutes to learn how to do X and Z in the game because they are different. Normally for racing games, cars accelerate by holding down the "A" button. In Super Toy Cars, to accelerate, you must hold down the "ZR" button.
There are two gameplay options to choose from :
Career – this game mode allows you to choose cars, earn credits and purchase upgrades. The auto save feature is put to work in this mode.
Quick Race – similar to most racing games, this is Super Toy Car's quick race game mode. This mode is for those who just want to race for fun.
The 'Career' mode contains episodes with tracks that you can play. At first I thought it was one race after another with no pauses unless you finished the chosen episode (where you were forced to exit the game to take a break and upgrade your car), however, I was sadly mistaken. It may be easy to miss for some (such as myself), but there is an option to return to the main menu of the game after completing a race in career. Just keep an eye open to scan the entire screen and you will be fine.
Each vehicle has different acceleration, max speed, handling, weight, drift and boost. Of course, specifications can be modified by purchasing upgrades while it's also possible to change colors and paint-jobs.
One feature that I missed which I thought would have been a great addition is the vibration of the Wii U's GamePad when the toy car collided with an object. Multiplayer gameplay is present, however, it is limited to up to four local players (Wii Remote and Pro Controller are supported). Online play would have been a great addition but not really needed considering the price of the game and the content that it offers. The leaderboard was also a great addition. Cars do react when you hit them with power-ups for example, which is a step in the right direction. A sound every now and again when ramming into another toy car would have been satisfying to hear as well, but sadly it wasn't something included in the game. What's disappointing is that toy cars sometimes pass through walls during the gameplay.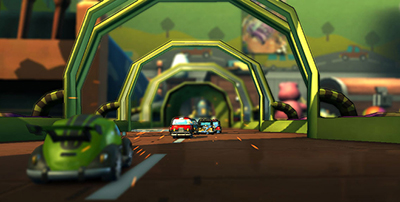 The track editor is a unique feature that was included in this game. It gives players the ability to create their own layouts for tracks easily using the GamePad and almost anyone is capable of using it to its fullest. The only downsides are that you are unable to share the layouts that you created with friends and when previewing the track, it's a bit difficult to return to the editor because the text says, "Press – To Go Back To The Editor". Some users may not know about the "-" button on the GamePad, especially new Wii U owners.
Soundtrack
There are literally two or three songs that play over and over while you race in this game or so it seems. It's fine the first several times you listen to it, however, it gets monotonous after a while. It doesn't give you the adrenaline that you may want for a racing games, but it is decent the first couple of times you hear it.
Bugs – the bad and the ugly
While playing the game, I encountered several bugs that can affect your experience with the game. The first one to mention is the game-breaking bug that occurred in a career mode race. All cars stopped in their tracks and the race would not have ended even after crossing the finish line multiple times. The bug might somehow be connected to respawning.
The next bug occurred on the career option screen. Scrolling fails to work when you want to scroll between the following options: Select Race, Select Car and Upgrades. It isn't a bug that I encountered many times though.
Conclusion
Super Toy Cars isn't a game you might want to play instead of Mario Kart 8, however, it is a good and cheaper alternative. The gameplay isn't that impressive or challenging, especially the time trials event, the music is repetitive, the power-up icons could have been done better and the bugs are annoying. There is replay value but only for those who want to relax while playing a racing game. Elimination is a lot of fun though and it has a bit of challenge. The artwork on the other hand is splendid for an eShop title, I'll give them that. The track editor and local multiplayer are wonderful additions as well.