Article updated last on June 21th. 2013!
Recently, I received the system update Version 6.0.0.12E. Depending how ahead or back Australia is with the rest of the 3DS users, this may or may not be news, however, if you haven't had an update in some months it will not hurt to check your system for updates. This update is necessary in order to get the Mii Plaza upgrade.
To update StreetPass Mii Plaza, just open the application. It will trigger a screen message that will request your approval for the update. Before you run the update, I must, however, alert you that there are currently problems with the Mii Plaza application. It freezes at some points – for example, the shop might forced closed when trying to access it. I would recommend you to wait until Nintendo releases a new update or a hot fix.
UPDATE: A new fixed version of the upgrade has been released, so if you haven't downloaded the upgrade yet, you don't have to worry about freezing anymore. 
I can still tell you what the update will bring to your Plaza:
Now we're in the Base screen, where you can see the menu icons surrounding your Mii and your recent Miis behind you. In essence, they look just the same, however, new icons were added.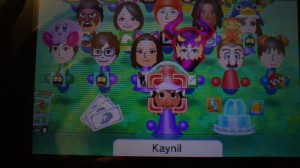 The lower screen now features shortcuts to Puzzle swap,

StreetPass

Quests and the Main screen with the main options. Apparently, it has space for five more shortcuts, but at this point I can not say if they are configurable or not.
New icons have been introduced to the menu:

A new icon in the form of two rotating arrows will allow you to check for updates; it is located before your red tool box and starting the Queue to the left.
A gray spinning world called 

StreetPass

Map will allow you to check the regions you have unlocked and which zones have you missed. The icon appears between Accomplishments and

Slideshow

.
A shopping cart icon simply titled Shop appears between you and your

Mii

. With this you will be able to purchase, apparently with real money, new games for your collected

StreetPass

. They will explain to you a bit about them and encourage you to purchase.
Next you have three money notes, this icon reads "Exchange Booth". New games will give you tickets and you will be able to exchange them for things to customize your

Mii

here. Will it be just new hats? Can't tell for sure. I noticed in

Mii

Settings that "Change Hat" has been replaced with "Change Outfit", and I think it is related to the ticket prices but don't take my word for it.
The backpack icon after your

Mii

gets replaced by a Fountain with shortcut icons backpack, Street Quests and presumably every new

StreetPass

game you decide to buy.
The Menu Play has gotten a revamp. If you press it, instead of giving you the options in arrows like before, it will display them visually by having your Mii walking around. You will see your Plaza Miis happily enjoying the outdoors of your Plaza as you stroll in circle around the game options for Puzzle Swaps, StreetPass Quests and… four rabbit holes with a Rabbit each, and each will pop out as you pass around them – they are simply placeholders for the aforementioned four purchasable games.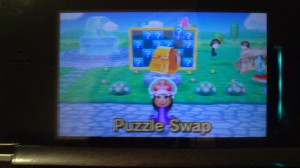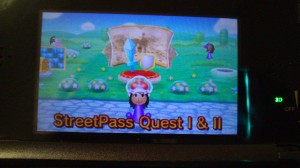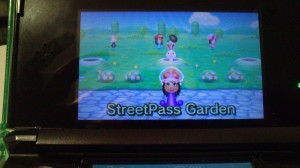 About the New Games
First of all, I want to outright say it bugs me that they are actually charging real money and not Play Coins for the new game, according to what I read on Joystiq. If you want to get the newest accessories you will be required to pay a few bucks. Of course, I am trusting that since they decided to charge, it is going to be an optimal trade in exchange of many more hours of entertaining. They will work just like the other games by walking around gathering StreetPass you will slowly progress in them. It is completely up to you which games to buy and in which order.
UPDATE: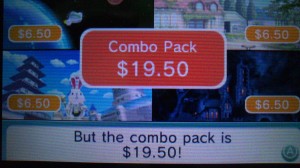 There is a combo pack with the four games available, however, you will hear nothing about it unless you try to buy one of the games for first time. For Australians, each game costs $6.50 AUD. The combo pack gives you the four for 19.50 AUD. This is basically a "buy 3 get 1 free" kind of saving. 
These are the new four purchasable games:
StreetPass

Squad
You are a galactic protector, you collect StreetPass, each Mii is a different ray being shot around your ship, the number of Miis at the time will be the number of remaining hits you can take before it is game over.  The battle is a very simple side scroller ship shooter game.


StreetPass

Garden
You want to become a master gardener, exchange flowers with other

StreetPass

Miis

and decorate your house exterior with them.


StreetPass

Battle
This is a strategy game where you are the rule of a little fragment of a made-up map. You try to conquer the rest of the areas by building armies via

StreetPass

and battling. According to Mr. Fluffy, battles are not won by strategy only, but also some luck.
 

StreetPass

Mansion
You will choose coloured puzzles via

Streetpass

, each one represents a corridor and as you fill the mansion shape with them you progress. Your goal is to discover the stairs so that you can pass to the next level. Along the way there will be foes and people to question in your detective role in order to uncover the truth. If you put together pieces of the same colour, they form a four-block square and will become a room where you can find treasure boxes that may contain tickets.

StreetPass New Panels
I got a new piece for a new Panel, surprisingly enough it was not for a 3DS game. I took my 3DS up for a walk and I got a few new pieces but people had other panels I didn't have so I can confirm you that at least there are three new panels:
Xenoblade

Chronicles
New SUPER MARIO BROS. U + New SUPER LUIGI U
The Legend of Zelda: Skyward Sword.
Stay tuned and I'll let you know as soon as we get the freeze issue fixed.