No, this is not another music track by Psy. This isn't a song at all. It's a game, Nintendo 3DS eShop download to be specific. Tangram Style is a fresh new take on Ancient Chinese art of Tangram. It's a fun and engaging puzzle game providing a smartphone like gameplay on your 3DS. Find out more about Tangram Style from the review below.

Gameplay
The gameplay is simple, all you do is drag the different Tans with your stylus on to their preferred positions and if the tans fit, it will show you a green signal, otherwise which will be flashing red. The puzzles are easy and get tricky after a while but this game is suitable for almost all ages. (Not suitable for kids who have the tendency to choke on the stylus or the 3DS itself). Fitting each piece in its correct position will be satisfying but it will not be easy every time. The game gets harder and harder with each puzzle.
There are no hints to tell you where a piece should go, so it would take a little bit of fiddling around to get the fitting position for a tan. A decent hint system would have been a great addition to the overall gameplay. 4 Different game modes bring extra fun to the game, Classic mode lets you play the classic trial and error style of game where you keep fiddling around to find the perfect position for your tan. Challenge mode on the other hand offers the same thing but with a time limit to make it a bit Challenging. One-Touch mode, is the most difficult mode of all, this mode only lets you move a piece once, so every single move has to be perfect. Finally, the Child mode is for younger players who don't like putting much pressure on their brains.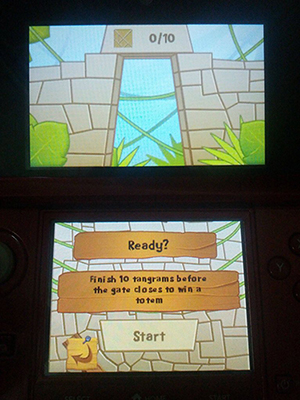 Controls
The controls are swift and simple, all you need is a stylus and you're good to go. It's a simple drag and drop control scheme we've seen on most mobile games. The music isn't much better so the Mute button is your friend.
Verdict: Oppa Tangram Style? Not Really.
All in all, Tangram Style, isn't as fancy as its name but people who are interested in extensive challenging puzzles will find themselves hooked to it for a while. This game will appeal to those who are looking for a new way to work out their brains. Check out the game on Nintendo's eShop. You can also join our giveaway of the game here.