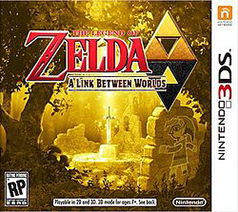 | Region | Release date |
| --- | --- |
| North America | November 22, 2013 |
| UK/Europe | November 22, 2013 |
| Japan | December 26, 2013 |
The Legend of Zelda: A Link Between Worlds is an upcoming video game for the Nintendo 3DS. The game takes place in the same world from The Legend of Zelda: A Link to the Past, however, it has a different storyline. In addition, new features were introduced.
Useful Links :
91 out of 100
Metacritic MetaScore
The game is not available yet, however, Nintendo has revealed some features of the game. With the Nintendo 3DS, a player can use the touch screen to drag items from the item window and switch it with an item that was assigned to the "X" and "Y" 3DS hardware buttons. Thanks to the Nintendo 3DS, the game has stunning 3D visuals. The game runs at 60 FPS even when 3D is enabled, and it's playable with or without 3D.
Note: This web page will be updated when more information is revealed about the game.
| Questions | Answers |
| --- | --- |
| Wi-Fi Multiplayer Gameplay | No |
| Local Multiplayer Gameplay | No |
| Game Available at eShop | Yes |
The Legend of Zelda: A Link Between Worlds Gameplay Trailer :