Don't have time to hit the game stores? Want a US region 3DS eShop card? Don't worry – it's possible to order it online. There are several websites that I know about that sells Nintendo 3DS eShop cards. Two of them sends the 3DS eShop codes digitally and not physically at your front door in card form. I know, waiting can be a pain. Ordering the codes online to receive them immediately via email is the way to go.
Where To Buy US Region 3DS eShop Cards Online :
PC Game Supply (pcgamesupply.com)
I always use PC Game Supply to order my US region 3DS eShop cards online. I first discovered the website at a forum. I was iffy about making an order because I had to verify that I was a human via phone (verification number gets sent via text message), however, that all paid off when I received the goodies. It's disappointing that the website's $50 value 3DS eShop cards are out of stock. However, one can purchase multiple $20 value 3DS eShop cards from the website. Take note that there is a daily spending limit. It sounds sort of stupid and I don't know why it was implemented, but it's there.
The website accepts PayPal as a form of payment, as well as credit and debit cards. You know what they say, "PayPal is the most loved way to pay online". I have purchased over four $20 US region 3DS codes from PC Game Supply, and all worked successfully. After placing an order, the code will be listed in your order page assuming that you're logged into your PC Game Supply account (yeah, you're required to sign up to purchase items – that's how they limit the amount of purchases you can make daily).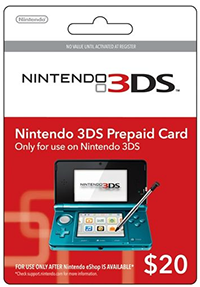 ( $20 value Nintendo 3DS eShop Card )
Maximus Cards (maximuscards.com)
Another website that I have heard about is Maximus Cards. Apparently, they are pretty well known around the web for selling online game marketplace points (eg. PSN, iTunes, Xbox Live, etc). I went with PC Game Supply instead because they accepted PayPal, while Maximus Cards kept asking for credit or debit cards. I like that they have a live support chat so you can quickly get in contact with someone to ask questions.
At Maximus Cards, they sell Nintendo 3DS $20 cash cards and $20/$35/$50 eShop cards. I guess the 3DS cash card can only be used on the Nintendo 3DS system, while the eShop cards can be used on either a Wii U or a 3DS.