Samasten is a material in the Ingots and Metal category in Atelier Ryza 2: Lost Legends & the Secret Fairy. There's no way to craft it in the game; however, this guide will show you how to obtain it.
Where To Find Samasten in Atelier Ryza 2
Samasten can only be purchased from a merchant in the Erster Central District of the Ashra-am Baird region. It costs 720 Cole and can be purchased daily. After getting the quest, you'll likely be able to purchase it from the market daily.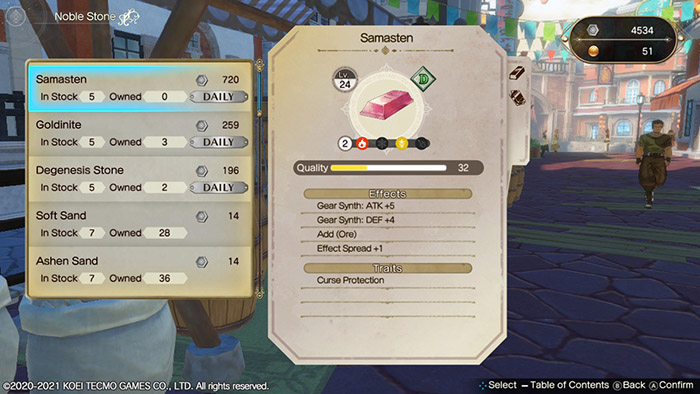 What is the purpose of the Samasten
The Samasten is used to craft the Samasten Necklace in Atelier Ryza 2. The Rauch Artisan District Cucarissa will request the item in exchange for the Round Table reward.
'A New Discovery' Quest details:
I was given a recipe for processing the rare stone that was found in the mines. I'll need Samasten… If that's all, I'm sure I can get it at the market at the Central District!
The only major ingredient other than Samasten is Amberlite. Amberlite can be purchased at Dennis's Workshop for 168 Cole and you can buy a maximum of 3 daily (unless that number also increases later in the game).