YOU CAN STOP THE MUSIC! PLEASE STOP THE MUSIC!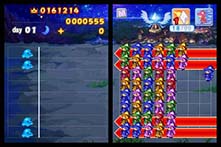 ABOUT THE GAME
Wizard Defenders is a promising mash-up of a bubble game and a tower defense. It is an excellent example to those types of games. The idea is good, however, how the developers executed it is extremely poor.
The game requires you to use the DS in a sort of book style. Playing the game is really simple. All that you have to do is match three or more wizards of one color in the touch screen, horizontally or vertically, to fire magic beans at the advancing horde of monsters.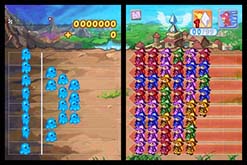 The concept of the game is solid, but it suffers from lagging controls.
There is a new game option with three difficulty options. These difficulty options are easy, normal, and hard. Higher levels are more difficult to beat than they should have been. It's almost impossible to defeat all of the monsters when playing the game on the hard difficulty due to their speed (after time) and numbers. The monsters move faster than you, making the game unbalanced.
The game also offers a tutorial section that shows you the ropes of the gameplay. It's not a walk in the park to beat for some strange reason. Normally, tutorials are supposed to be easy, however, this one isn't. In addition, there is a leaderboard, but there is no use for it.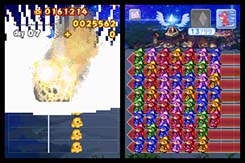 Wizard Defenders is a budget puzzle game, so some people can play it for ten minutes while others can play it for 10 hours. If you do play the game for hours, you may want to mute the console because hearing the same song over and over again can get annoying after time.
VERDICT: 38/100 (Not That Great!)
An excellent and rock solid idea, but its poor execution, lagged input controls and poor balanced difficulty (including the tutorial) makes this game hard to enjoy. This game may be worth your money if you're a hardcore puzzle fan, however, if you're not, you may one to think about skipping this one.