Pokemon fans, get ready. Today, Nintendo revealed a new Direct at its official website – a Pokemon Direct. You can either look at the video or read the text contents below to find out what happened at this Pokemon Direct.
Pokémon Direct 9.4.2013
Video credit: Nintendo.
Player Search System – Pokemon X and Pokemon Y
The first thing that was mentioned during today's Pokemon Direct was the Player Search System (PSS). The PSS allows Pokemon X/Y gamers to battle and trade with anyone who owns the game from around the world, over a Wi-Fi connection, of course.
Pokemon Bank (optional downloadable content for Pokemon X/Y)
Pokemon Bank is a downloadable software (paid) for the Nintendo 3DS that allows Pokemon X/Y players to store their Pokemon in the cloud. If you do not have enough space in the regular game to store Pokemon, the Pokemon Bank will come in handy for only $5 per year.
In addition, there will be a Poke Transporter app that allows players to send their Pokemon from Pokemon Black, White, Black 2 and White 2 to their Pokemon X or Pokemon Y game. The Poke Transporter app is said to work with the Pokemon Bank app.
Note: There is a limit of 3,000 Pokemon that can be stored in the Pokemon Bank.
Starter Pokemon
It turns out that Pokemon X and Pokemon Y trainers will receive one of the new 6th gen starter Pokemon from a friend, while you will be given the option to pick one of the first gen starters from Professor Augustine Sycamore.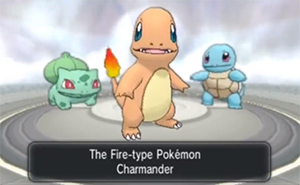 ( Screenshot: First gen Pokemon starters – Bulbasaur, Charmander, and Squirtle )
Mega Evolution
Today's Pokemon Direct also revealed mega evolution forms for Venusaur, Charizard, and Blastoise. When a Pokemon transform into its mega evolution form, its appearance changes and it releases a secret power that only its mega evolution form can use.
To take advantage of mega evolution, you will be required to use a mega ring (Pokemon trainer wears this) while the Pokemon is holding a mega stone. To see more mega evolution forms in Pokemon X and Pokemon Y, please read this.
Pokemon X and Pokemon Y Themed 3DS XL
The Pokemon X and Pokemon Y themed Nintendo 3DS XL gaming handhelds will be available to purchase in North America and Europe on September 27th, 2013. The blue special edition 3DS XL features Xerneas (Pokemon X's legendary), while the red features Yveltal (Pokemon Y's legendary). Each handheld will cost the consumer $199.99.