A few days ago I finally had the chance to update my SD card from 2GB to 16 GB. When I was at the store I found out that SD cards with the capacity I was after were labelled SDHC and that made me hesitate: My 2GB card just had an SD logo – what if this 'new format' didn't work?
People that are more or less up with today's technology would probably laugh at this notion while people like me still believe SD stands for "Sand Disc". We don't buy SD often and usually devices that depend on that kind of memory already comes with one, 3DS included.
The truth is that at least this time the cipher is really very simple to understand: SD stands for Secure Digital and the HC I was worried about means High Capacity. Every SD above 2GB and up to 32 GB is now by standard considered a SDHC. Bigger capacity than that become SDXC.
So now you more or less have an idea of what SD cards are around and what's up with the weird acronyms in their logos. Let's move to the real reason you're reading this:
Which ones can I use with my 3DS?
According to Nintendo, your console has capacity for SD cards and SDHC up to 32GB. While I don't own a 3DS XL, I believe that the same rules applies for it.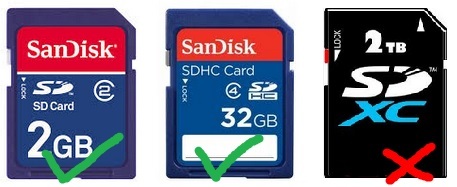 Oh, don't be sad that your Nintendo 3DS does not support SDXC cards, it is not like you're going to need that extra space anyway. The home screen gives a limited amount of applications to download and you will need a lot of music and videos files to justify so much space in a tiny device which real focus has always been games.
If you really want to make a SDXC work, I have read it can be done formatting in fat32 or something like that, but even if you manage to have it become readable, the blocks for games available may leave you with less than what makes it worth to force this card to be recognized. I'd say for now stick with the Nintendo approved SDHC.
Having more than 2 GB is a good idea if you enjoy exploring other applications like the camera and sounds which can eat a lot of your free space in videos you take and mp3 you install.  I also recommend it  if you download demos and applications regularly or if you plan to purchase one or more 3DS games digitally.
If you use it the same way you used your gameboy, the SD that comes with the console probably will do nicely to keep your data and the applications for default. 
Lastly, don't be afraid to start with the original card that came with the console, even if you plan to eventually migrate your data onto a new SD card with a higher capacity because the transfer of 3DS data between SD cards is easy. I already did it and everything is working neatly.