Alles Welt is a crafting material you will need to synthesize the Dream Vision Pendulum item in Atelier Sophie 2: The Alchemist of the Mysterious Dream. This guide will teach you how to get Alles Welt in the game.
How To Get Alles Welt To Craft Dream Vision Pendulum
Step 1: Defeat White Warrior
First, you need to find and defeat White Warrior. White Warrior is a Golem enemy that drops the Seele Pilós material. You will need the Seele Pilós material for synthesis.
You can find White Warrior in Nightmare Muster from the world map. Open the world map and select Nightmare Muster. Choose either Hunting Dream or Evil Dream during snowy weather. Hunting Dream is preferred since its weather is snow by default.
Step 2: Synthesize Astersima
The next step is to synthesize Astersima. The toughest materials to get for this item are Seele Pilós (you should have gotten it already above) and Dragon Core. The Dragon Core can be obtained from slaying a dragon. You can refer to this guide to find Silverius.
Synthesizing 4 more items with Plachta should be easy.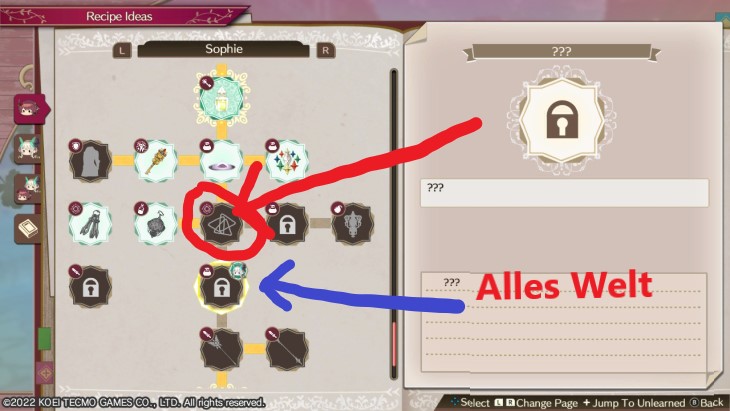 If these two requirements do not appear for the Alles Welt recipe, or the Alles Welt option locked in your recipe book, you will have to first unlock the recipes above/around it in Sophie's recipe book. It's a bit of a pain but if you need help with this, shoot us an email or join our Discord server for help.
Step 3: Make the Dream Vision Pendulum
Step #2 should unlock the Alles Welt recipe. It should be straightforward from here. You will need to make Black Agujero, followed by a Philosopher's Stone. To synthesize these items, you will need Key To The Stars and Dragon Bloodstone. Key To The Stars can be purchased from Gnome at Crystal Sparkle Pavilion for 3 scrolls. You can earn scrolls by completing dangerous quests accepted at Crystal Sparkle Pavilion.