This tutorial teaches you how to find and get to Shibuya from the Shinjuku terminal in Shin Megami Tensei IV. If you have not unlocked the Shinjuku terminal, you probably can't get to Shibuya yet. There is another requirement which was mentioned later in this guide.
How To Get To Shibuya in Shin Megami Tensei IV
Transport yourself to the Shinjuku terminal using another terminal in the game. After, exit and you should be at the Shinjuku underground station. Use the screenshot below to go in the correct direction when leaving the underground station of Shinjuku :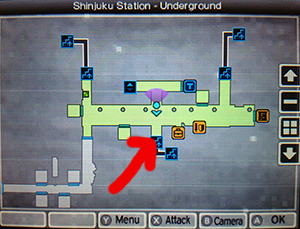 ( Screenshot: Arrow pointing to the direction to leave Shinjuku's underground station )
You should now be at the 'South Entrance of Shinjuku'. Find the exit icon on the map (it can be seen on the bottom screen of the 3DS) and exit. You should now be located at the main map of Tokyo (Shinjuku Region). Keep moving your character's icon left until you meet a dead end. Of course, don't go straight up to the dead end. Instead, move your character's icon down, followed by a right turn and then go down again.
If you moved your character's icon in the correct direction, you should see something that looks like a desert (only sand). Keep moving and you should eventually leave the desert. Make a left turn, then go up. There should be doors leading to a corner with only one red area warning sign. The other is a green relic sign. Enter the area with the red warning sign and that should take you to Shibuya.
Important: Shibuya can only be unlocked after completing the Rescue The VIPs quest.