One of the strong points in Animal Crossing: New Horizons is playing with friends locally or online. Similar to previous titles in the series, New Horizons gives players the option to invite players to your island or visit someone's island. This is done through the friend list or code, and this guide will teach you how to invite people over to your island or join a friend's island to continue the fun.
How To Play With Friends Online in Animal Crossing: New Horizons
Step 1: Exchange Friend Codes or Get Dodo Code
Exchanging friend codes with people over the Internet is the common method used to play with others. Having friends registered will allow you to view a list of players with their island gate open whenever you check for available players to play with.
Dodo Codes, on the other hand, let you join someone's island without having to register their friend code on your friend list. They come in handy when you wish to make a quick-trade with a stranger or someone who you do not want to keep in your friend list.
Step 2: Go To The Dodo Airport
Regardless of your island's layout, the Dodo Airport will always be located near the bottom-center of the map. Go to the airport and talk to the bird villager. He'll give you the 411 on online play etiquette and then you'll be able to let players visit your island or search for other players' islands to join.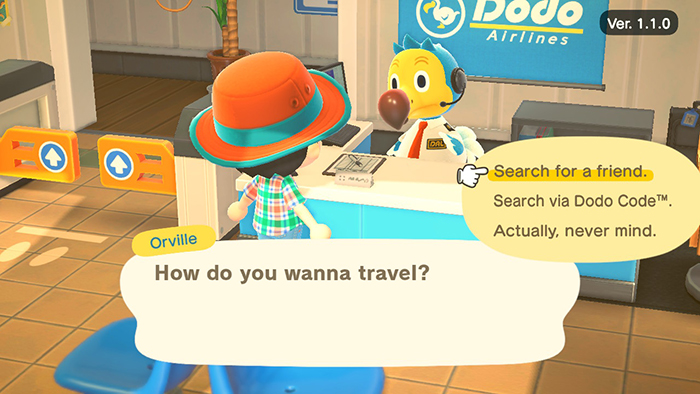 Important notice: The Dodo Airport will not open on Day 1 of the game. You will have to play and wait it out until the day resets. Impatient people will have the option of time traveling to speed it up.
How To Send Item Gifts To Other Players Online
Animal Crossing: New Horizons lets players send giftable items to other players on their friend list. To do this, go to the Dodo Airport. There should be an object on the right, near the counter. Go next to it and press A. This feature only works if you've played with the person before in the game.
You should be able to write a letter and attach one of your items as a gift to it, to send to a friend over the Internet. This comes in handy if you want to message a friend through the game or send a gift without connecting simultaneously. It costs 200 Bells to send a letter.