We already know that Nintendo is selling the 3DS XL Circle Pad Pro at its US and Canadian online stores. What you might not have known, is that Amazon is selling the same accessory online. The 3DS XL CPP is currently in stock at Amazon.co.uk and the item is delivered free in the United Kingdom with Amazon's super saver delivery.
Amazon charges £17.99 for the CPP XL (Circle Pad Pro XL) with the gift-wrap option available. Although Christmas is not anytime soon, the accessory will make a good gift for any Nintendo 3DS XL owner who has a collection of first-person shooter games for the console.


( Screenshot of Amazon's 3DS XL CPP product page )
Scrolling down on Amazon's web page of the product will show you a description of the 3DS XL CPP. Most likely Amazon has copied and pasted the wrong product description, since it says that the accessory is not compatible with the Nintendo 3DS XL. It is clear that they're using the product description of the regular Circle Pad Pro or that they have made a typo in the accessory's description.
Photos of the add-on reveals that what Amazon is selling is indeed the 3DS XL Circle Pad Pro and not the original Circle Pad Pro designed for the regular Nintendo 3DS. Both versions of the CPP can be viewed below. Can you see the difference?
Photo of the new 3DS XL Circle Pad Pro accessory and the 3DS XL console :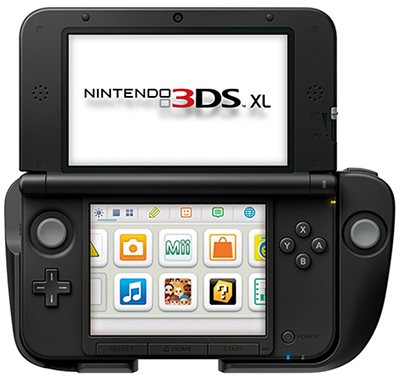 The 3DS XL is larger, so they had to give it a slant design at its bottom-right corner.
Photo of the regular Circle Pad Pro accessory and the 3DS console :
I assume that you know the differences between both the 3DS and the 3DS XL. If not, you better read up about it. The differences between both accessories are clear to the eye. Heck, one photo has the 3DS XL attached to the accessory, while the other has the regular 3DS.
Amazon has the photo of the 3DS XL and its CPP on the product page. Not to mention its title that says, "Nintendo 3DS XL Circle Pad Pro (Nintendo 3DS)". That should clear things up, however, if you wish to confirm, you can always call Amazon.co.uk via phone or email.
Source : Amazon.co.uk.