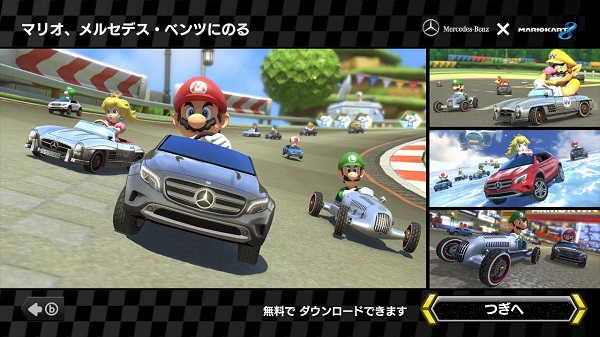 The first Mario Kart 8 update is now available worldwide. It upgrades the game's version to 2.0 and it will require 136 MB of your console's memory. The Mercedes-Benz DLC is a separate download where it will need an additional 12.5 MB.
Here's the official log of the update:
Adds the ability to access the in-game shop and download three free Mercedes-Benz cars: Mercedes-Benz GLA, 300 SL Roadster, and Silver Arrow. (In short words, DLC support)
Adds the ability to display the course map on the TV screen during races [Press – to bring up the map]
Adds "Play Stats" option to the main menu, allowing users to see gameplay statistics such as total number of coins collected, win-loss record in online play, and more
Adds the ability to change options of others' Mario Kart TV downloaded highlight reels, such as changing the focus to a new character or event
Changes the default menu option after each race to "Next Race", followed by "Watch Highlight Reel"
Improves the vehicle selection process and saves the most recent vehicle customisation settings that were selected, even if the Wii U console is powered down between play sessions
Improves stability of connection in online play to enhance the user experience
Increases the maximum attainable Player Rating and Battle Rating from 9999 to 99999
Introduces additional enhancements to improve the user's experience and enjoyment
Remember that there's also the pre-purchase for both DLC packs, where you can see here.