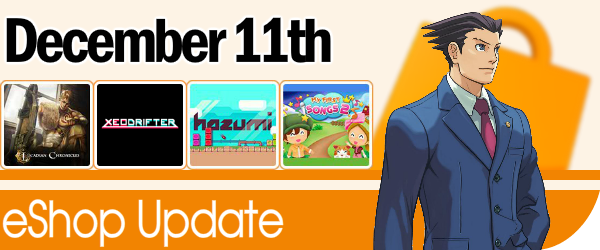 – 3DS Winter 2014 Bonus Game Promotion: (Europe) Link
If you register your 2DS / 3DS / 3DS XL system and a copy of Super Smash Bros. for 3DS, Pokémon Omega Ruby or Pokémon Alpha Sapphire, you will get a free game! Seven big retail games to choose, being available until January 12th 2015.
– Super Smash Bros. Mewtwo and OST Club Nintendo Promotion (North America)
Buy both Super Smash Bros. for 3DS and Wii U before January 13th and get a soundtrack CD, and before March 31st for the Mewtwo DLC. Link.
– RCMADIAX Holiday Offers
All RCMADIAX games are on sale on the Wii U eShop! Link.
– The rest of the sales!
If you want to see a list with all the sales includes, please follow this Link.
---

Wii U Retail Downloads
Angry Birds Star Wars – Activision – $49.99*
Angry Birds Trilogy – Activision – $49.99*
*From December 16th
Wii U eShop
Lucadian Chronicles – Dark Roast Entertainment – Free or $7.99 unlock
Wii U Virtual Console
Crash 'n the Boys: Street Challenge (NES) – Aksys Games – $4.99
Wii U eShop Temporary Discounts
From December 12th until December 24th
Another World: 20th Anniversary Edition – Digital Lounge – TBA [+50%] ($7.99)
From December 16th Until January 14th
How to Train Your Dragon 2 – TBA ($39.99)
Disney Planes: Fire and Rescue – TBA ($39.99)

Wii U eShop
Tested With Robots! – M.R. Games – €10.00 / £9.00
Wii U Virtual Console
Pokémon Pinball Ruby & Sapphire (GBA) – Nintendo – €6.99 / £6.79
Wii U DLC
Zen Pinball 2 – Zen Studios:
South Park – €4.99 / £3.99 (two tables)
Core Collection – €9.99 / £7.99 (four tables: Secrets of the Deep, Biolab, Rome and Pasha.)
Venom – €2.99 / £2.39
Wii U Temporary Discounts
Until December 18th
Resident Evil Revelations – Capcom – €14.99 / £11.99 (€49.99 / £39.99)
Until January 30th
Barbie Dreamhouse Party – Little Orbit – €15.00 / £13.50 (€29.99 / £24.99)
Monster High: 13 Wishes – Little Orbit – €15.00 / £13.50 (€29.99 / £24.99)
Until February 2nd
Angry Bunnies: Colossal Carrot Crusade – Cypronia – €4.85 / £4.49 (€6.99 / £5.99)
Color Zen – Cypronia – €2.24 / £2.24 (€2.99 / £2.99)
Color Zen Kids – Cypronia – 2.24 / £2.24 (€2.99 / £2.99)
My Style Studio: Hair Salon – Cypronia – €3.74 / £3.35 (€4.99 / £4.49)
Wii U Permanent Discounts
Ben 10 Omniverse 2 – Bandai Namco Games – €19.99 / £19.99 (€30.99 / £24.99)
Rise of the Guardians – Bandai Namco Games – €19.99 / £19.99 (€44.99 / £35.99)
Zen Pinball 2 – Zen Studios:
South Park
Core Collection
Venom

3DS Retail Downloads
Angry Birds Star Wars – Activision – $49.99
Angry Birds Trilogy – Activision – $29.99
Moshi Monsters Katsuma Unleashed – Activision – $29.99
Moshi Monsters: Moshling's Theme Park – Activision – $29.99
Transformers: Dark of the Moon Stealth Force Edition – Activision – $39.99
Wipeout 2 – Activision – $29.99
I Love My Little Boy – Treva Entertainment – $24.99
I Love My Little Girl – Treva Entertainment – $24.99
3DS eShop
Phoenix Wright: Ace Attorney Trilogy – Capcom – $29.99
Xeodrifter – Renegade Kid – $9.99
Hazumi – Gamelion – $3.99
My First Songs 2 – Ringzero Games – $4.99
Talking Phrasebook – 7 Languages – Sanuk Games – $4.99
3DS Virtual Console
Harvest Moon 3 (GBC) – Natsume – $4.99
3DS Home Theme
Persona Q: Shadow of the Labyrinth The Clock Tower – Atlus – $0.99
3DS eShop Temporary Discounts
From December 12th until December 24th
Another World: 20th Anniversary Edition – Digital Lounge – TBA [+50%] ($7.99)
From December 15th until January 2nd
Woah Dave! – Choice Provisions – $0.99 – $4.99)
From December 16th until January 14th
How to Train Your Dragon 2 – Little Orbit – TBA – $39.99)
Disney Planes: Fire and Rescue – Little Orbit – TBA – $39.99)
Until January 8th
Rage of the Gladiator – Gamelion – $2.99 ($6.99)
Monster Shooter – Gamelion – $1.99 ($4.00)
Darts Up 3D – Enjoy Gaming – $0.99 ($2.99)
Soccer Up 3D – Enjoy Gaming – $1.99 ($6.99)
Until January 15th
Steel Empire – Teyon – $15.99 – $29.99)
3DS Free Demo
I Love My Little Boy – Treva Entertainment
I Love My Little Girl – Treva Entertainment
I Love My Horse – Treva Entertainment

3DS eShop
Phoenix Wright: Ace Attorney Trilogy – Capcom – €29.99 / £24.99
Rune Factory 4 – XSEED Games – €29.99 / £24.99
Battleminer – Wobbly Tooth – €7.99 / £5.99
Fairune – CIRCLE Entertainment – €2.99 / £2.39
Pyramids 2 – Enjoy Gaming – €4.99 / £3.96
My First Songs 2 – Ringzero Games – €4.99 / £4.49
3DS Retail Release
Hello Kitty Happy Happy Family – Bigben Interaction – €34.99 / £29.99
My Life on a Farm 3D – Treva Entertainment – €29.99 / £24.99
I Love My Little Boy – Treva Entertainment – €24.99 / £19.99
I Love My Little Girl – Treva Entertainment – €24.99 / £19.99
3DS DLC
Persona Q: Shadow of the Labyrinth – NIS America:
Navigation: Theodore – €2.99 / £2.69
Navigation: Elizabeth – €2.99 / £2.69
Navigation: Margaret – €2.99 / £2.69
3DS Temporary Discounts
Until December 2th
Conception II: Children of the Seven Stars – Atlus – €19.99 / £17.99 (€29.99 / £24.99)
Until December 18th
Resident Evil Revelations – Capcom – €9.99 / £8.49 (€29.99 / £24.99)
Resident Evil: The Mercenaries 3D – Capcom – €3.99 / £3.59 (€9.99 / £8.99)
Until January 1st
Witch & Hero – CIRCLE Entertainment – €1.99 / £1.79 (€4.00 / £3.60)
Aeternoblade – CORECELL – €5.99 / £5.40 (€14.99 / £13.50)
Parking Star 3D – CIRCLE Entertainment – €1.99 / £1.79 (€2.99 / £2.49)
Color Zen – Cypronia – €2.24 / £2.24 (€2.99 / £2.99)
Color Zen Kids – Cypronia – €2.24 / £2.24 (€2.99 / £2.99)
Until January 8th
SpeedX 3D – Gamelion – €1.49 / £1.29 (€2.99 / £2.69)
SpeedX 3D Hyper Edition – Gamelion – €0.99 / £0.89 (€1.99 / £1.79)
Rage of the Gladiator – Gamelion – €3.49 / £3.09 (€6.99 / £6.29)
10-in-1: Arcade Collection – €0.99 / £0.89 (€1.99 / £1.79)
Pick-A-Gem – Gamelion – €1.49 / £1.29 (€2.99 / £2.69)
PIX3D – Gamelion – €1.99 / £1.79 (€3.99 / £3.59)
Monster Shooter – Gamelion – €1.99 / £1.60 (€4.00 / £3.20)
Crazy Kangaroo – Gamelion – €0.99 / £0.89 (€1.99 / £1.89)
Until January 12th
Quell Reflect – CIRCLE Entertainment – €2.99 / £2.69 (€3.99 / £3.49)
Carps & Dragons – Abylight – €2.99 / £2.49 (€4.99 / £4.49)
Until January 30th
Monster High: 13 Wishes – Little Orbit – €15.00 / £13.50 (€29.99 / £24.99)
Monster High Skultimate Roller Maze – Little Orbit – €5.00 / £4.49 (€29.99 / £24.99)
Barbie Dreamhouse Party – Little Orbit – €15.00 / £13.50 (€29.99 / £24.99)
Barbie Groom and Glam Pups – Little Orbit – €10.00 / £8.99 (€29.99 / £24.99)
Until February 2nd
My Style Studio: Hair Salon – Cypronia – €3.74 / £3.35 (€4.99 / £4.49)
Fishdom H2O: Hidden Odyssey – Cypronia – €3.74 / £3.35 (€4.99 / £4.49)
Angry Bunnies – Cypronia – €4.85 / £4.49 (€6.49 / £5.99)
Bubble Pop World – Cypronia – €3.74 / £3.35 (€4.99 / £4.49)
3DS Permanent Discounts
Ben 10 Omniverse 2 – Bandai Namco Games – £14.99 (£19.99)
3DS Home Theme
ACNL K.K. Slider at Club LOL – Nintendo – €1.99 / £1.79
Mario Characters: Green Camouflage – Nintendo – €1.99 / £1.79
Mario Characters: Blue Camo – Nintendo – €1.99 / £1.79
Polka Dots – Yellow & White – Nintendo – €0.99 / £0.89
3DS Free Demo
Hello Kitty Happy Happy Family – Bigben Interaction
I Love My Little Boy – Treva Entertainment
I Love My Little Girl – Treva Entertainment