If you're thinking about purchasing a Nintendo 3DS and you plan to mainly purchase games online via Nintendo's eShop, you should know what types of payment methods the online marketplace accepts.
Nintendo 3DS eShop Payment Methods :
Credit and Debit Cards
The Nintendo eShop accepts credit and debit cards in selected countries. Don't go trying to change your system's region to try an international credit or debit card, because it will not work. Instead, Nintendo will take the money and your eShop account will not be credited. Sure, the money will most likely be refunded by Nintendo, however, the time period it takes for the money to return is very long (over 10 days if I'm not mistake).
You see, with the 3DS and its eShop, you will be required to enter an address. Say, if you're living in the United States, you will have to enter the state and a zip code (a postal code for the United Kingdom). If the credit or debit card does not match the address, your eShop account will not be credited while you lose the money in the process.
Nintendo 3DS Pre-Paid Card
At retail, you can purchase Nintendo 3DS pre-paid cards. These pre-paid cards are available at selected countries, and yes, they are region locked like the Nintendo 3DS. In order to use the pre-paid cards purchased at another region, you will be required to change the eShop region on the 3DS.
Important : The three region locked versions of the 3DS have different regions.
The 3DS pre-paid cards sell in values of :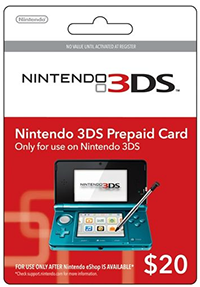 ( Photo of the $20 value 3DS pre-paid card )
Note : pre-paid card information based in the United States.