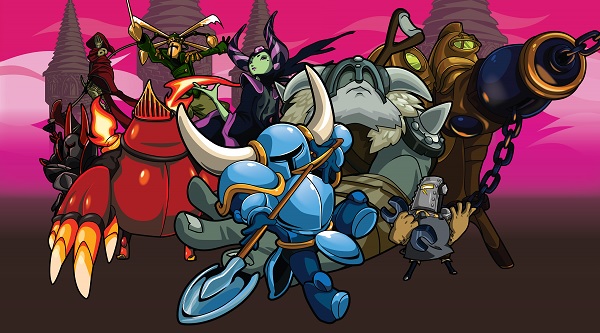 Yacht Club Games will release very soon the update 1.1 of their game Shovel Knight, where it's already available for the PC version. For the console version, the update will also contain the fixes from the updates 1.0C, 1.0D, and 1.0E.
Here's the full log regarding the general fixes and the ones for each Nintendo platform:
---
1.1
General
Fix: Timing issue where the Inventory screen could be opened with the game unpaused.
Fix: Getting captured by Treasure Knight's chest while using the Ichor of Boldness leading to a missing Shovel Knight.
Fix: Cheats not carried over in New Game+ when a file is reloaded.
Fix: Falling into pit during final boss battles leading to soft lock.
Fix: Escaping final battle with Propeller Dagger.
Fix: Fall through floor if using Dust Knuckle when defeating Polar Knight during Round Table.
Fix: Enchantress blocks frozen by creative Chaos Orb use.
Fix: Entering Enchantress fight with shovel drop causing crash.
Tweak: Fixed a portrait and added one slacker to the Hall of Champions.
Wii U
Game can now be played with out the GamePad! "Please re-connect GamePad" message will only display if it was your last used controller before disconnect or if you were displaying the game on the GamePad screen.
NEW: GamePad screen can be toggled between Main and Sub type by pressing the "Select Button" within the Pause Menu. Quicker than going all the way to the video option menu!
Fix: Crash when the battery died on GamePad with certain Wii U system features enabled.
Fix: Music not resuming if a Miiverse post is selected while the inventory is open on screen.
3DS
NEW! Update option on the main menu makes updating to new versions of Shovel Knight a breeze! Welcome to the internet future, medieval knight man!
Fix: Home menu crash issues
---
1.0E
General
Fix: "Reflect Lord Feat" only incrementing enemies hit count if it the reflected attack was non-fatal.
Fix: DualShock button prompts not auto-detecting.
Fix: Treasure Knight getting caught on walls during vertical downward anchor shots.
Fix: Player could retreat to the previous screen during Specter Knight's battle. Props to Specter's tenacity in contiuing to hunt down Shovel Knight in this situation.
---
1.0D
General
Feat progress is immediately saved upon unlocking. Previously, Feats could be unlocked but lost by the regular saving mechanisms if a game exited or turned off before reaching an autosave point.
Fix: (Alchemy Lab) Sound would loop forever if the Potion Master mid boss was defeated at a certain frame
Fix: (Tower: ????) Soft lock fix involving NPC AI.
Fix: Double KO end to a boss battles disabled access to pause and relic menus.
---
1.0C
General
Removed an "empty" Song Scroll from Clockwork Tower which could never be collected or turned in.
Fix: "Halfway" Feat unlocking when re-clearing a stage.
Fix: Black Knight ignores damage during Plains intro. For some players, there was a small window of opportunity to Ground Spark which could cause Black Knight to go off script.
Fix: Sparker Feat not unlocking when defeating Black Knight.