Do you love speed? Do you love futuristic jets? Well, if you do then you're in luck because we're going to review AiRace Speed today and this game is all about high speed futuristic jets. It's one adrenaline pumping game and gives a whole new meaning to jet racing.

Gameplay
AiRace Speed is the third installment in the popular AiRace series for the DSi. It's the best game in the series in my opinion. The gameplay is fast and keeps you on the edge all the time. You control a jet and race through tunnels. It may sound simple but actually it isn't. Took me almost 7 tries to actually complete the first stage but once you get the hang of it, all will be under control. You need fast reflexes to control your jet otherwise crashing in a pillar is inevitable. You need quick maneuvers to dodge obstacles and get to the finishing point. The gameplay is pacey and keeps you engaged. There are achievements to be unlocked which adds to the overall gameplay.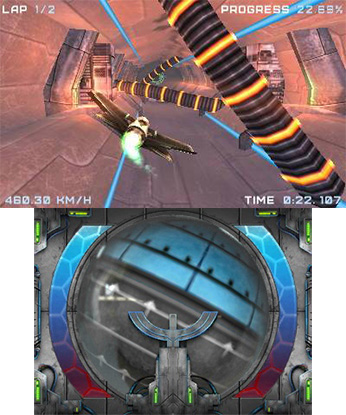 AiRace Speed Gameplay
Controls
The controls are simple, you can use d-pad or the circle pad to steer your jet and L/R to rotate it in the respective direction. Button A is for Nitro while B will help you apply brakes in the air and slow down your jet. The control scheme is simple yet takes a bit of time to get used to. Don't use the nitro very often because that'll surely get you killed unless you master it.
Visuals and Audio
I haven't seen visuals like this on a 3DS game before. At least not for a racing game. AiRace Speed offers the best graphics there are and the 3D looks pretty good as well. The jets and the levels are beautifully rendered in 3D. The background music is not as good as the visuals of the game but it doesn't distract you from the gameplay either. Luckily, it didn't get annoying at all and I actually enjoyed the fast paced music during the game.
Verdict: AiRace Speed, speeding its way through our hearts
All in all AiRace Speed is one of the best racing game I've played on the 3DS and even one of the best jet racing game I've played on any console. The gameplay is a bit similar to Zaxxon Escape (Android) but AiRace Speed offers much more features than it. It's a great game and well worth its $4.99 price tag.