THE BIRD IS HUNGRY! NOT ANGRY!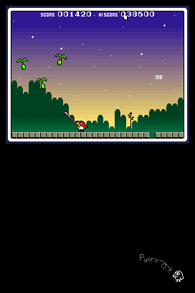 Two WarioWare mini-games from the GBA game. If you don't have the original, you can enjoy these thanks to the DSi digital game service.
About The Game
During the gameplay, you control a little bird. There are beans that fall and the bird is hungry, so you must help him eat by controlling him. If the beans somehow touch the ground, they will destroy the floor, or literally, kill you.
There are three types of beans:
The normal green one
The white one that replaces a floor tile when it's eaten
The flashy one that destroys all of the other beans and replace a big number of floor tiles at once.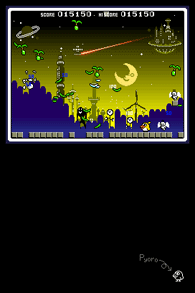 The sky will change with the time (well, with the points you will be winning) and also if you reach 10000, you will unlock the second game, Bird&Beans 2.
The second game is similar to the first, however, the task is different. Instead of eating to beans, you will be required to destroy them. In addition, the score system is also different.
VERDICT: 83/100 (Great!)
Small, fun and cheap. This mini game must be in your collection of eShop games. With two solid game modes and an excellent background music, the game is really worth those 200 Nintendo Points (2 dollars).