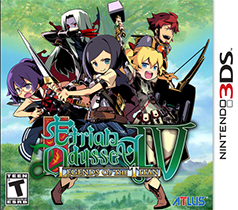 | Region | Release date |
| --- | --- |
| North America | February 26, 2013 |
| UK/Europe | August 30, 2013 |
| Japan | July 5, 2012 |
Etrian Odyssey IV : Legends of the Titan is a dungeon crawler role playing video game for the Nintendo 3DS that was developed by Atlus. It's the sequel to Etrian Odyssey III: The Drowned City and the first game from the Etrian Odyssey series to be released for the 3DS.
Useful Links :
This review is not available yet, sorry.
84 out of 100
Metacritic MetaScore
Etrian Odyssey IV's gameplay remains similar to its first three previous generation games, however, there are some minor differences. Besides the 3D enhancements due to the Nintendo 3DS handheld console, players can now use an airship to roam around in the new overworld that takes the form of the sky. As the player goes deeper into the game, the airship gains the ability to fly at higher altitudes, introducing the gamer to much stronger enemies, and even dragons with the ability to automatically end the game if their attacks hit the airship – their attacks do not always cause the game to end.
| Questions | Answers |
| --- | --- |
| Wi-Fi Multiplayer Gameplay | No |
| Local Multiplayer Gameplay | No |
| Game Available at eShop | Yes |
Etrian Odyssey IV : Legends of the Titan Game Trailer :
Video credit : AtlusUSA.