Grand Orgen is a synthesis material from the Ingot and Metal category in Atelier Ryza 2: Lost Legends & the Secret Fairy. There are two methods to get Grand Orgen in Atelier Ryza 2, and this guide will teach you how to do so.
How To Get Grand Orgen in Atelier Ryza 2
Crafting Grand Orgen
Unfortunately, you won't be able to craft the Grand Orgen in Atelier Ryza 2 until you've reached the late-game dungeon. This is because the Underworld Crystal is an essential ingredient to successfully craft the bar. The Underworld Crystal can only be obtained by using an AXE to gather the material from the purplish-pink floor crystal.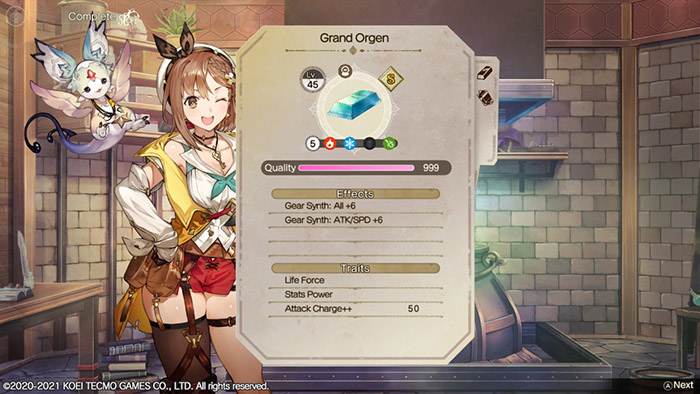 Morphing Ingot to Grand Orgen:
Ingot -> Startium -> Creaminea -> Goldinite -> Grand Orgen
By the time you reach the Ethereal Dragon's Coffin, you should already have all of the materials to craft up to the Goldinite. After obtaining the Underworld Crystal, crafting the Grand Orgen will become child's play.
Buying From Dennis's Workshop
Selling the Septrin material to Romy will unlock the Grand Orgen for purchase at Dennis's Workshop. Dennis sells the Grand Orgen for 1,046 Cole per bar. The number of stock can increase as you level up the development level at Romy's store.
Septrin will become a daily item from the saleswoman in the blue jacket at the Erster Central District marketplace after selling Romy a material you would already have around the time you'll need the Grand Orgen. She sells Septrin for 417 Cole per item. Additionally, you can gather Septrin at the Ethereal Dragon's Coffin late-game, or get the rare drop from the Noble Paladin formidable foe in Dragonbone Valley Edge.
Item Duplication
The Grand Orgen can be duplicated via Item Duplication in exchange for gems. The cost varies; however, the starting bar that Dennis sells at his workshop will cost around 6,490 gems to clone. The higher quality bars that you craft yourself will likely cost more.