Today, Nintendo revealed the Nintendo 2DS on its official website. The Nintendo 2DS is a gaming handheld by Nintendo that targets the lower budget audience who can do fine without 3D. Don't worry, it can still play those Nintendo 3DS games and take advantage of 3DS apps. What it can't do is flip like the regular Nintendo 3DS and play games in 3D.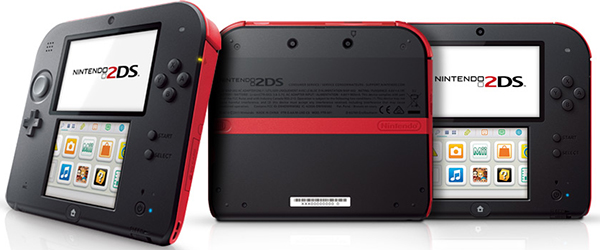 ( Photo: Different views of the Nintendo 2DS )
What do you get inside of the box?
In North America, if you purchase a 2DS, you will receive the following :
Nintendo 2DS
Nintendo 2DS stylus
SDHC Card
Nintendo 3DS AC adapter
AR Cards
When will the Nintendo 2DS be available to purchase in North America and Europe? 
The 2DS will go on sale from October 12th, 2013. It is the same date when Pokemon X and Pokemon Y will be available worldwide.
In the United States, the device will be available for $129.99 US.
In addition to the gaming system, an accessory will be available to purchase on the release date. It's a case with the Nintendo logo. This case for the 2DS will set you back $12.99 US, and it will be available in red or blue colors.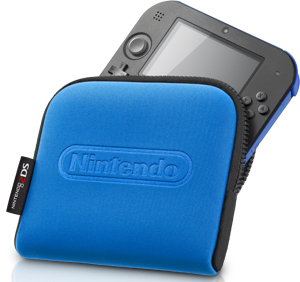 ( Photo: Nintendo 2DS going into its case accessory )
According to Nintendo, the 2DS is compatible with all Nintendo 3DS games and most Nintendo DS games. With the 2DS, users can access all of the content from the Nintendo eShop similar to how it's done with the regular Nintendo 3DS. It supports wireless connectivity for multiplayer and co-op play, and it features parental controls that can be used to let grown-ups manage the system's content.