I've personally been such a big fan of the Mario games, ever since my childhood. 2D Mario games were especially up my ally, with interesting terrains, unique enemies, and a rather subtle charm that enemies evoke in each game.
The idea of creating my own stages never really occurred to me, but with the release of original Mario Maker, it was rather exciting to play an unlimited catalog of creative stages without ever having to buy another game. Such experiences with the dual use of the gamepad, unexpected (yet funny) sounds and visuals with the course maker such as a cat paw or hopping noises of the eraser made making stages a charm. Uploaded courses have had objectively mixed enjoyment, however, with either the courses being too difficult to the fault or being awfully simple. The question that I pondered was whether or not Super Mario Maker 2 can find the right balance with courses and replicate the charm Mario Maker 1 had with making courses.
Course Maker (Course Bot)
Of course, with the title being "Mario Maker", having a course creator that can be easy, intuitive, and enjoyable is very important since it's detrimental to the entire experience (beyond Story Mode).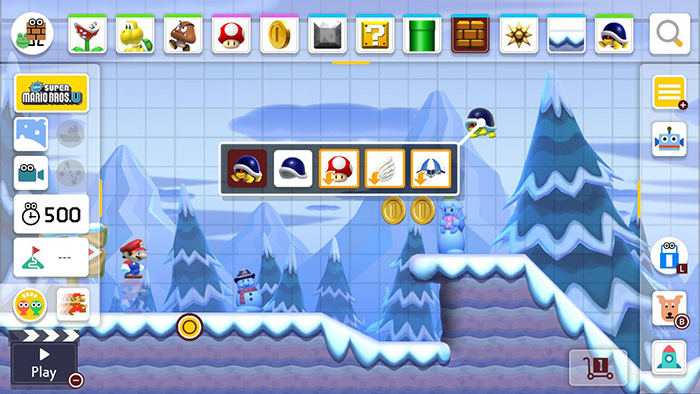 My first impression was rather negative. Playing on TV and trying to get right into making courses with the joy-con is extremely difficult. The joy-cons were not accurate in placing items in specific areas, and not being able to simply tap on items that I wanted to be made making courses unenjoyable and inefficient. I found myself spending much more time fiddling with the controls and erasing unintended mistakes rather than just focusing on the making of courses.
Undocked is a completely different experience. With a rubber touch screen pen, it suddenly felt like the experiences on the Wii U version, if not easier in some ways. Tapping specific categories of enemies and seeing a full circle of options within a subcategory of a specific enemy or block made it much easier to find items.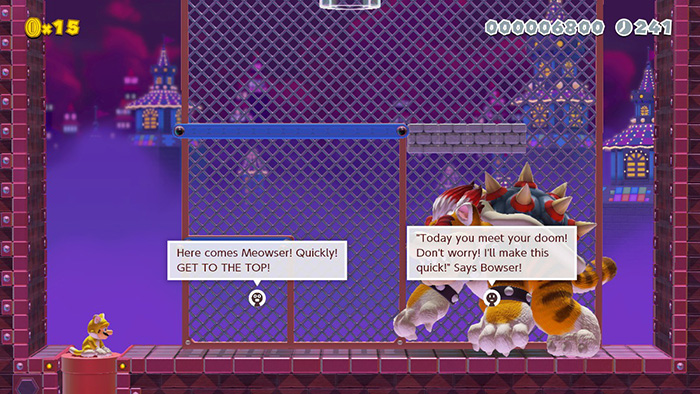 The ability to stretch levels vertically, use much more course themes, and access all-new enemies and physics with the 3D world also unleashed much more creativity. Some items such as the 'On / Off' switch changed levels drastically and expanded the scope of creativity substantially over the previous game.
So beyond the TV making experiences, creators will really enjoy the ability to bring their ideas to life with the numerous new tools, environments, and simplicity finding items. The experience is just as enjoyable, with more unique sounds that make the experience of making courses much more fun.
Story Mode
While the Wii U version had some courses preloaded, the switch version makes playing Nintendo created courses its own separate game.
The story is rather simple. A rather familiar castle (hint: it starts with a P) is set into view. Undodog accidentally exterminates the castle with a Reset Rocket when playing around, wiping out the castle. Mario's job is to work (volunteer really because Mario isn't getting paid) for Toadette and her crew by getting funds to slowly rebuild the castle.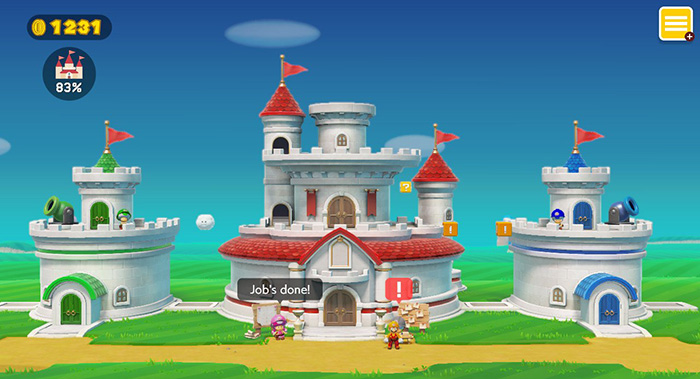 Prebuilt courses vary by difficulty from 1 star to 4 stars, and each has a higher pay grade the harder it gets. By getting money, the castle can slowly be rebuilt. A rather interesting message of labor issues is set in the game as the castle is built, and there is a small level of character from Toadette and the colored Toads revolving around it.
Courses themselves are not remarkably of a standard seen in the 2D main games, but they introduce players to concepts and ideas that they can later use when making their own courses. It also serves a mode to provide consistent quality in courses, as all of the Nintendo courses feel more refined in how they were made in comparison with community-created courses.
It's a great mode to dive into the game and now what it has to offer. 100+ courses make this feel like its own game in itself, although the quality of the courses of each theme isn't up to their retrospective main games.
Course World
The Course World is a place where players can enjoy levels created by individuals from the Course Maker. Types of levels can be sorted by their difficulty, course theme, and by what levels are gaining popularity quickly or the latest uploads that haven't been played yet. This makes finding a course right for you more likely than in the first game, where broader categories led to much more unwanted levels.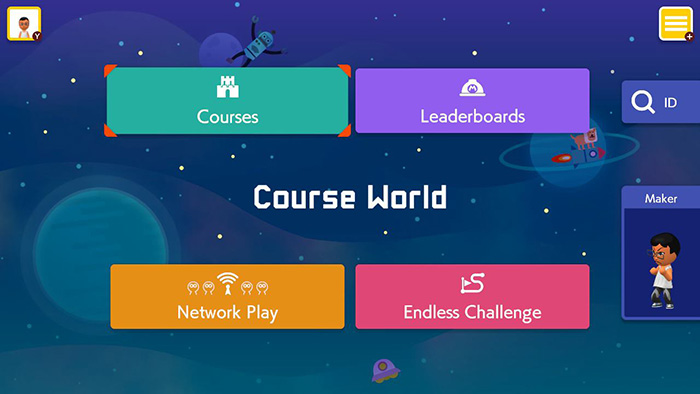 Mario Maker 2 also has the ability for people to share specific courses with their friends through a code system. Whenever a course is uploaded, those courses will have a 9 digit ID which you can physically share with your friends or post on online forums. The limitations, unfortunately, is that levels cannot be directly shared from the system itself, codes generated for a specific level have to be given. Groups of levels also cannot be shared, as levels can only be shared one at a time. This hinders the experience a little with direct friends but also makes it easier to share codes online. The codes are also much shorter than the Wii U's version was (16 digits!).
With the code, you can search for levels shared. With the specific categories from region to clear rate to environments all the way to sharing and inputting codes from friends/strangers it really emboldens the sense of community in the game.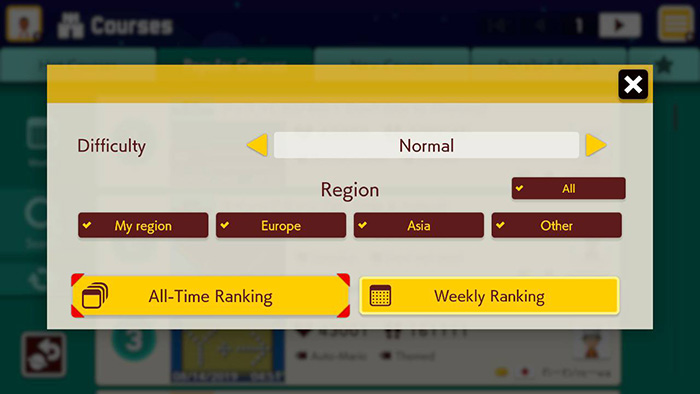 Playing levels have never been more exciting with new items, more level themes, more music, and a 3D world theme. I found myself much more satisfied with the challenge and gameplay compared to the previous game, which is good for long term playability.
A rating system allows levels that have unbalanced gameplay or poor design to be deprioritized, resulting in more consistent courses that are enjoyable. There are no issues with Course World, although I feel like the number of levels uploaded means that you'll miss a lot of good courses.
Extra Modes
The 2 extra modes in the Course World are Co-op and Multiplayer.
In Co-op, one person out of 4 players has to reach the goal for everyone to pass. This will select levels that tend to be more Co-op friendly (via tags creators tie to their levels), and everyone has to work together to make it to the end.
Messaging is extremely important for cooperation. The system gives basic reactions that are fun but not deep enough to give specific messages. There are plenty of pre-written messages, therefore players should select messages they feel are more effective.
It's funny yet annoying when players interfere with your movement or simply are not willing to cooperate in a certain manner, making Co-op not very enjoyable. 80% of the time resulted in me needing to quit due to lag from Nintendo's Peer to Peer connection that results in horrible lag if one of the players has a bad connection.
The same lag also applies to competitive. 4 players compete against each other to last the longest and/or reach the goal first. It's close to unplayable for me with the amount of leg I experienced during my time with the game.
Conclusion
Overall, Mario Maker 2 takes a huge step forward with more creativity in courses, a 3D world mode that changes up the game drastically, a great introductory with Story mode, and more consistent/enjoyable levels in the Course World. It takes a small step back with controller issues in the TV mode of the Course Maker and an unplayable/laggy experience in the extra modes, but as a whole, Mario Maker 2 appeals to a broad audience that'll enjoy the making and playing of unique courses.
Super Mario Maker 2 gets a 9 out of 10.