Are you a citizen of the United Kingdom and want to purchase UK region 3DS eShop cards online? I know how hard it can be travelling to a store just to get yourself one card that's designed to purchase digital content. Heck, you might pick up a physical copy of the game if you reach the store and it's available – who knows?
I believe Nintendo should sell 3DS eShop cards online. They have a website for each region – it might not be too difficult. That way people fully know that a 3DS eShop card's code will work and the funds will be added to the eShop account. Either way, I'm not planning to go on about all of this today. No. What I'm going to tell you, is a website where you can purchase United Kingdom (UK) region 3DS eShop cards online.
GAME (game.co.uk)
GAME might be the best online store to purchase a UK region 3DS eShop card. Most likely it will work with the Europe region locked Nintendo 3DS by changing the eShop's region. Now, they're not selling the eShop cards that only work on the 3DS system. They are selling eShop cards that work with the 3DS, however, these cards will also work with the Wii, Dsi, and most likely the Wii U.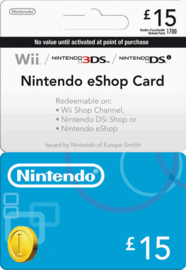 ( Photo of the £15 Nintendo eShop card / Important : make sure that the card has the 3DS logo )
Here's what Michael, a reviewer, had to say about the eShop card and the Wii U :
Since I know a lot of people will be confused by the fact these cards don't actually say "Wii U" on them, I can confirm the eShop cards which say they're for use on 3DS eShop also can be redeemed on the Wii U.
Source : Game.co.uk.
GAME is selling the Nintendo eShop cards in values of :
Now, I do not know if these cards will be delivered to your door or if they immediately send them Via email. The website marks up "UK free delivery" on its web pages, that's why I'm not sure what they do. However, contacting their staff is easier than most companies, since they provide email, phone, and live chat support. A quick look at the website's footer will reveal a link to its 'Contact Us' web page.