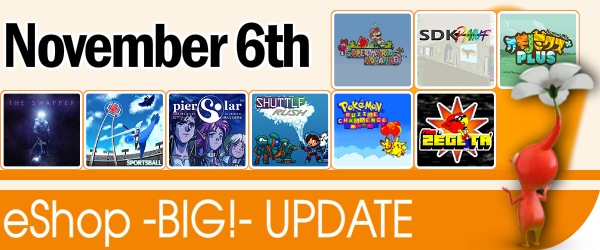 – 3DS Winter 2014 Bonus Game Promotion: Link
If you register your 2DS / 3DS / 3DS XL system and a copy of Super Smash Bros. for 3DS, Pokémon Omega Ruby or Pokémon Alpha Sapphire, you will get a free game! Seven big retail games to choose, being available until January 12th 2015.
– Angry Bunnies Promotion (Europe)
Owning Angry Bunnies: Colossal Carrot Crusade on your Wii U you can get Angry Bunnies for free on your 3DS with the same NNID. If you own the 3DS title, you can get the Wii U one for free. It will finish this November 30th.
– Pokémon ORAS Demo Chance
If you buy Pokémon Art Academy digitally, you will be eligible to get a code for Pokémon Omega Ruby and Pokémon Alpha Sapphire Special Demo Version.
– EnjoyUp Wii U 99Seconds / Abyss Promotion (until Nov 20th)
If you bought Abyss, you can get 99Seconds for €1.49 / £1.37 (€2.49 / £2.29).
If you bought 99Seconds, you can get Abyss for €0.99 / £0.89 (€1.99 / £1.79).

– The rest of the sales!
If you want to see a list with all the sales includes, please follow this link.
---

Wii U Retail Downloads
Disney Infinity 2.0: Play without Limits – Disney Interactive Studios – $19.99
Disney Planes: Fire & Rescue – Little Orbit – $39.99
Wii U eShop
The Swapper – Curve Digital – $19.99
Sportsball – TOO DX – $9.99
Pier Solar and the Great Architects – WaterMelon – $14.99
SDK Paint – HullBreach Studios – $2.99
Shuttle Rush – Takusan Works – $7.99
Pikmin Short Movies HD – Nintendo – $4.99
Flapp & Zegeta – Denysoft – $4.99
Wii U Virtual Console
Super Mario Advance (GBA) – Nintendo – $7.99
Wii U eShop Temporary Discounts
Wii U eShop Permanent Discounts
Sonic Lost World – Sega – now $29.95 ($49.99)
Sonic & All-Stars Racing Transformed – SEGA – now $29.95 ($49.99)
Flowerworks HD: Follie's Adventure – NOCTURNAL – $2.00 ($4.00) *From Nov 7th
Wii U Free Demo

Wii U Retail Downloads
Disney Infinity 2.0: Play without limits – Disney Interactive Studios – €19.99/ £17.99 (€29.99/ £24.99 after Nov 13th)
Disney Planes: Fire & Rescue – Little Orbit – €39.99 / £34.99
Wii U eShop
The Swapper – Curve Digital – €14.99 / £11.99
Shovel Knight – Yacht Club Games – €14.99 / £11.99
Pikmin Short Movies HD – Nintendo – €4.99 / £4.49
Wii U Virtual Console
Mega Man 7 (SNES) – Capcom – €7.99 / £5.49
Mega Man X3 (SNES) – Capcom – €7.99 / £5.49
Wii U eShop Permanent Discounts
Flowerworks HD: Follie's Adventure – NOCTURNAL – €2.50 / £2.00 (€5.00 / £4.00)

3DS Retail Downloads
Nintendogs + Cats: Golden Retriever – Nintendo – $14.99
Nintendogs + Cats: French Bulldog – Nintendo – $14.99
Nintendogs + Cats: Toy Poodle – Nintendo – $14.99
Disney Planes: Fire & Rescue – Little Orbit – $29.99
3DS eShop
Kemonomix+ – Rocket Studio – $4.99
Safari Quest – Maximum Games – $4.99
Pikmin Short Movies 3D – Nintendo – $4.99
3DS Virtual Console
Pokémon Puzzle Challenge (GBC) – Nintendo – $4.99
3DS eShop Temporary Discounts
Until November 13th
3DS eShop Permanent Discounts
3DS Free Demo
Sonic Boom: Shattered Crystal – SEGA

3DS Retail Downloads
Ultimate NES Remix – Nintendo – €39.99 / £34.99
Disney Planes: Fire & Rescue – Little Orbit – €29.99 / £24.99
I Love My Horse – Bigben Interactive – €24.99 / £19.99
Petz Beach – Ubisoft – €19.99 / £19.99
Petz Countryside – Ubisoft – €19.99 / £19.99
3DS eShop
Football Up Online – EnjoyUp Games – €3.99 / £3.59
Shovel Knight – Yacht Club Games – €14.99 / £11.99
Pikmin Short Movies 3D – Nintendo – €4.99 / £4.49
3DS eShop Temporary Discounts
Until November 13th
3DS eShop Permanent Discounts
Football Up 3D – EnjoyUp Games – €2.99 / £2.36 (€6.99 / £5.99)