Another week, another update for the Nintendo eShop. Like we usually do, cover all the new releases and sales, and also keep the old sales that are still live (looks like we're the only ones who do this).
We should also do a mention of two promotions we already covered: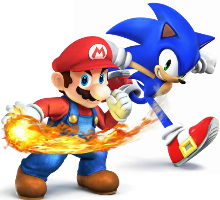 ATLUS eShop Sale:
Seven titles are discounted on the North America eShop until September 1st.
Link.
"SUPER SMASH BROS FOR 3DS AND WII U VETERAN CHARACTERS SALE":
Until August 28th, different 3DS and Wii U titles are on  sale on the European eShop.
Link.

Wii U eShop
Midtown Crazy Race – Jose Varela – $4.99
Wii U Virtual Console
Mega Man 6 (NES) – Capcom – $4.99
Life Force (NES) – Konami – $4.99
Wii U Retail Download
Disney Infinity – Disney Interactive – Free
Wii U eShop Temporary Discounts
Until August 28th
Gravity Badgers – Wales Interactive – $3.49 ($4.99)
ZaciSa's Last Stand – ZeNfA Productions – $1.49 ($2.99)
Until September 1st
Hello Kitty Cruisers – Bergsala Lightweight – $9.99 (normally $19.95)
Until September 10st
Abyss – EnjoyUp Games – $1.49 ($1.99)
Until September 11st
Nano Assault NEO – Shin'en Multimedia – $7.49 ($9.99)
Chasing Aurora – Broken Rules – $3.99 ($7.99)

Wii U Virtual Console
Adventures of Lolo (NES) – Nintendo – €4.99 / £3.49
Double Dragon II: The Revenge (NES) – Arc System Works – €4.99 / £3.49
Wii U eShop Temporary Discounts
Until August 28th
Assassin's Creed III – Ubisoft – €9.99 / £7.99 (€19.99 / £15.99)
Assassin's Creed IV Black Flag – Ubisoft – €14.99 / £9.99 (€29.99 / £19.99)
Marvel Avengers: Battle for Earth – Ubisoft – €9.99 / £7.99 (€19.99 / £15.99)
Rabbids Land – Ubisoft – €9.99 / £7.99 (€19.99 / £15.99)
Rayman Legends – Ubisoft – €14.99 / £11.99 (€29.99 / £23.99)
The Smurfs 2 – Ubisoft – €19.99 / £15.99 (€39.99 / £31.99)
Tom Clancy's Splinter Cell Blacklist – Ubisoft – €14.99 / £9.99 (€29.99 / £19.99)
ZombiU – Ubisoft – €9.99 / £7.99 (€19.99 / £15.99)
Just Dance 2014 – Ubisoft – €14.99 / £9.99 (€29.99 / £19.99)
Child of Light – Ubisoft – €9.99 / £7.99 (€14.99 / £11.99)
Gravity Badgers – Wales Interactive – €3.49 / £3.49 (€4.99 / £4.99)
Until September 11th
Nano Assault NEO – Shin'en Multimedia – €7.49 / £6.70 (€9.99 / £8.99)
Chasing Aurora – Broken Rules – €3.49 / £2.99 (€6.99 / £5.99)

3DS eShop
Demon King Box – CIRCLE Entertainment – $3.99
BlazBlue: Clone Phantasma – Arc System Works – $5.99 / $6.99CAD
3DS Virtual Console
Xtreme Sports (GBC) – WayForward – $4.99
3DS eShop Temporary Discounts
Until September 1st
Code of Princess – Atlus – Details TBC, from August 18th
Etrian Odyssey Untold: The Millenium Girl – Atlus – Details TBC, from August 18th
Travel Adventures With Hello Kitty – Bergsala Lightweight – $9.99 (19.99) *from August 18th
Until September 2nd
Johnny Impossible – UFO Interactive – $1.99 ($5.99)
Samurai Sword Destiny – UFO Interactive – $1.99 ($5.99)
Zombie Slayer Diox – UFO Interactive – $1.99 ($5.99)
Until September 3rd
Me & My Furry Patients 3D – TREVA Entertainment – $9.99 ($29.99)
Until September 4th
Classic Games Overload – Telegames Inc – $19.99 ($29.99)
European Conqueror 3D – CIRCLE Entertainment – $2.79 ($3.99)
Until September 7th
AeternoBlade – Corecell Technology – $9.99 ($14.99)
Until September 11th
Quell Reflect – CIRCLE Entertainment – $2.79 ($3.99)
Nano Assault EX – Shin'en Multimedia – $7.49 ($9.99)
Until September 15th
Until September 18th
Nano Assault EX – Shin'en Multimedia – $7.49 ($9.99)
Until September 27th
Boulder Dash-XL 3D – Reef Entertainment – $1.69 ($4.99)
3DS Free Demo
Cooking Mama 5: Bon Appetit – Majesco Entertainment

3DS Virtual Console
Mega Man IV (GB) – Capcom – €3.99 / £3.59
3DS eShop Temporary Discounts
Until August 28th
SpeedX 3D Hyper Edition – Gamelion – €0.99 / £0.89 (€1.99 / £1.79)
10-in-1: Arcade Collection – Gamelion – €0.99 / £0.89 (€1.99 / £1.79)
Crazy Kangaroo – Gamelion – €0.99 / £0.89 (€1.99 / £1.89)
Race of the Gladiator – Gamelion – €3.49 / £3.09 (€6.99 / £6.29)
Hotel Transylvania – Avanquest – €12.99 / £9.99 (€19.99 / £17.99)
Until August 31th
Until September 5th
Yu-Gi-Oh! Zexal World Duel Carnival – Konami – €19.95 / £17.99 (€39.95 / £34.99)
Until September 11th
Nano Assault EX – Shin'en Multimedia – €7.49 / £6.35 (€9.99 / £8.49)
Until September 18th
Aqua Moto Racing 3D – Zordix AB – €5.99 / £5.39 (€7.99 / £7.19)
Until September 24th
3DS Free Demo