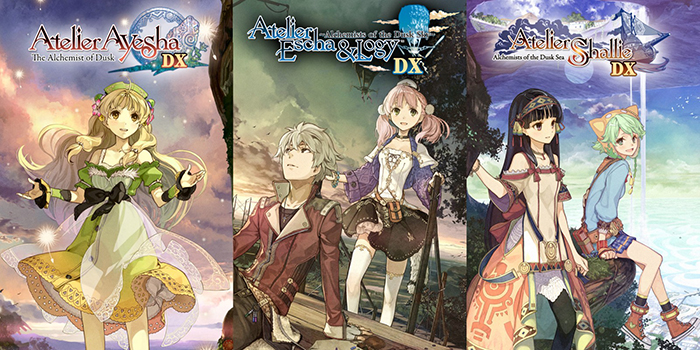 If you need help jumping into the Atelier Dusk DX games, look no further.
Recommended Order To Start With
You can start in any order you prefer, but to best understand the story without any missing gaps, it's recommended to start the games in the following order:
Atelier Ayesha DX and Atelier Escha & Logy DX both have 'timers' where you must complete the main objectives before their deadlines, although the latter is more lenient. Atelier Escha & Logy DX and Atelier Shallie DX improve on combat, but deciding between which is better might be up to personal preference even though Atelier Shallie DX brings new mechanics to the area.
Expected Playtime:
Atelier Ayesha DX = 35+ hours
Atelier Escha & Logy DX = 50+ hours (if completing all assignments)
Atelier Shallie DX = 30+ hours
Of course, playtime may vary depending on the player.
Atelier Dusk Trilogy Deluxe Pack vs Individual Purchases
The 'Dusk Trilogy Deluxe Pack' costs $90 US on the Nintendo Switch. Purchasing all three games individually will skyrocket the price straight up to $120 US because each game is priced at $40 US ($39.99 to be exact). Depending on where you live, you may need an additional amount for tax.
Guides To Help You On Your Journey
Atelier Ayesha: The Alchemist of Dusk DX
How to get Tonic
How to complete the Free Topic request
How to reduce time spent on movement
How to save item gathering time
Atelier Escha & Logy: Alchemists of the Dusk Sky DX
How to complete the Water Research assignment
How to get a Purple Crystal
Completing the Core Delivery assignment
Strategy to defeat dragons
How to increase friendship levels
Where to find Dunkelheit
Atelier Shallie: Alchemists of the Dusk Sea DX
Getting a Dragon Cup
Locations of the nearby Stellard water sources
Locations of all of the Automatons