Early in the game (Shin Megami Tensei IV), the Black Samurai will reveal herself. After your first encounter with her, you will receive the quest to capture her. This quest is called 'Capture the Black Samurai', and it's one of the main quests in the game.
It's not possible to capture the Black Samurai right away after receiving the quest. There are other main and side quests that you will receive along the way. This guide tells you where to find the Black Samurai as well as lists the quests that you should complete along the way.
How To Find The Black Samurai in Shin Megami Tensei IV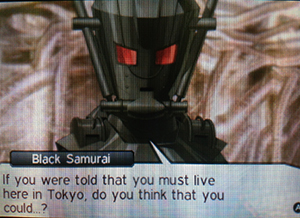 ( Screenshot: A question that the Black Samurai will ask you in Shin Megami Tensei IV )
The Black Samurai can be found at the Juraku Bookstore. The Juraku Bookstore is a demon's domain, however, the mapper app works in this domain. Therefore, you can see a clear map at the bottom of your 3DS's screen after moving to every inch of the domain.
How to find the Juraku Bookstore?
The Juraku Bookstore is located in 'Ikebukuro Station – East Entrance'. Before you can find the East Entrance of Ikebukuro's Station, you must first complete several important quests to find the area. These quests are all listed below :
Note: The links to the guides (yes, I wrote them all) contain information on how to get to certain locations of Tokyo in the game.
For the last quest, Xi Wangmu can be found in 'Ikebukuro Station – Sunshine Front'. The Black Samurai is located at 'Ikebukuro Station – East Entrance', however, she is in a different demon's domain. I'm not sure if you're required to defeat Xi Wangmu first, however, that demon is the one I slayed first in my game. After, I searched the area and discovered the Juraku Bookstore, the domain where the Black Samurai is hiding.
After finding the Black Samurai, there will be choices for you to make. I assume these choices can affect your game, so be careful what you choose. If you need more help, sign up for an account at the 3DS Pedia Forum, look for the 'Shin Megami Tensei' section, and start a thread. A member will most likely reply with an answer when they come online.