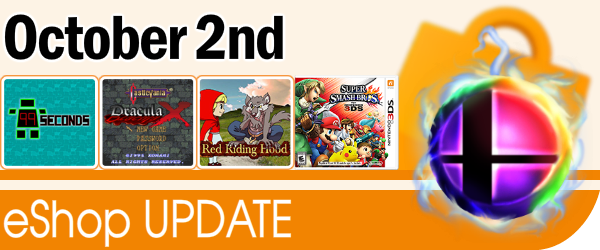 Another week, another update for the Nintendo eShop. Like we usually do, here is a list of the new releases and sales, as well as the old sales that are still live.
Before getting to the list, I should mention this week's awesome promotions and sales:
If you buy Azure Strike Gunvolt you will get a free copy of Mighty Gunvolt.
The free game promotion started on Europe!
Note: This list will be updated once all the new sales are confirmed.

Wii U eShop
99Seconds – EnjoyUp Games – $2.49
Red Riding Hood – Brave Rock Games – $1.00
Wii U Virtual Console
Castlevania Dracula X (SNES) – Konami – $7.99
Wii U eShop Temporary Discounts
Until October 6th
Armillo – Fuzzy Wuzzy Games – $4.99 ($7.99)
Until October 9th
Swords & Soldiers – Two Tribes – $1.99 ($2.99)
Until October 12th
Spin The Bottle: Bumpie's Party – KnapNok Games – $8.39 ($11.99)
Wii U eShop Permanent Discount
Just Dance Kids 2014 – Ubisoft – $19.99 ($29.99) *From October 6th

Wii U eShop
Wii U Virtual Console
Street Fighter Alpha 2 (SNES) – Capcom – €7.99 / £5.49
Wii U eShop Temporary Discounts
Until October 5th
Armillo – Fuzzy Wuzzy Games – €3.69 / £2.99 (€6.00 / £5.50)
Until October 9th
Swords & Soldiers – Two Tribes – €1.99 / £1.77 (2.99 / £2.69)
Until October 12th
Spin The Bottle: Bumpie's Party – KnapNok Games -€5.99 / £5.60 (€8.99 / £8.00)
Until October 30th

3DS Retail Download
Super Smash Bros. for Nintendo 3DS – Nintendo – $39.99 (From October 3rd)
Tenkai Knights Brave Battle – Bandai Namco – $39.99 (From October 7th)
3DS eShop Temporary Discounts
Until October 6th
Classic Games Overload: Card & Puzzle Edition – Telegames – $14.99 – ($29.99)
Until October 9th
Until October 16th
Tappingo – Goodbye Galaxy Games – $1.99 ($2.99)
Until October 23rd
Free eShop Demo:

3DS Retail Download
Super Smash Bros. for Nintendo 3DS – Nintendo – €44.99 / £39.99 (From October 3rd)
3DS Virtual Console
Street Fighter 2010: The Final Fight (NES) – Capcom – €4.99 / £4.49
3DS eShop Temporary Discounts
Until October 9th
Parking Star 3D – CIRCLE Entertainment – €1.99 / £1.79 (€2.99 / £2.49)
Quell Reflect – CIRCLE Entertainment – €2.99 / £2.69 (€3.99 / £3.49)
3D Game Collection – Joindots – €5.99 / £5.99 (€13.99 / £11.99)
Funfair Party Games – Joindots – €6.99 / £6.99 (€19.99 / £17.99)
Gardenscapes – Joindots – €5.99 / £5.99 (€14.99 / £14.99)
Jewel Match 3 – Joindots – €5.99 / £4.99 (€6.99 / £5.99)
Legends of Oz: Dorothy's Return – Avanquest – £9.99 (£19.99)
Until October 16th
Real Heroes Firefighter 3D Download Version – Zordix AB – €4.99 / £4.49 (€9.99 / £8.99)
3D MahJongg – Joindots – €3.99 / £3.29 (€4.99 / £4.49)
Murder on the Titanic – Joindots – €5.99 / £4.99 (€14.99 / £14.99)
Secret Agent Files: Miami – Joindots – €6.99 / £5.79 (€7.99 / £6.99)
Atlantic Quest – Joindots – €5.99 / £4.99 (€6.99 / £5.99)
Tappingo – Goodbye Galaxy Games – €1.99 / £1.69 (€2.99 / £2.49)
Until October 23rd
Until November 12th
Bibi & Tina – Das Spiel zum Kinofilm – Kiddinx, €24.99 (€34.99)