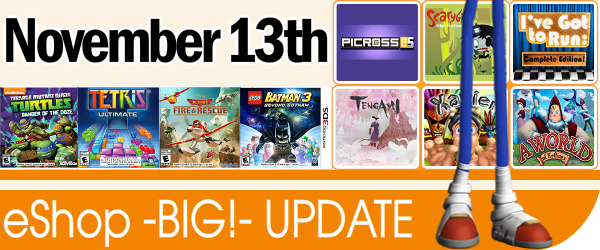 – 3DS Winter 2014 Bonus Game Promotion: Link
If you register your 2DS / 3DS / 3DS XL system and a copy of Super Smash Bros. for 3DS, Pokémon Omega Ruby or Pokémon Alpha Sapphire, you will get a free game! Seven big retail games to choose, being available until January 12th 2015.
– Angry Bunnies Promotion (Europe)
Owning Angry Bunnies: Colossal Carrot Crusade on your Wii U you can get Angry Bunnies for free on your 3DS with the same NNID. If you own the 3DS title, you can get the Wii U one for free. It will finish this November 30th.
– Pokémon ORAS Demo Chance
If you buy Pokémon Art Academy digitally or Pokémon Trading Card Game, you will be eligible to get a code for Pokémon Omega Ruby and Pokémon Alpha Sapphire Special Demo Version.
– EnjoyUp Wii U 99Seconds / Abyss Promotion (until Nov 20th)
If you bought Abyss, you can get 99Seconds for €1.49 / £1.37 (€2.49 / £2.29).
If you bought 99Seconds, you can get Abyss for €0.99 / £0.89 (€1.99 / £1.79).

– The rest of the sales!
If you want to see a list with all the sales includes, please follow this link.
---

Wii U Retail Downloads
Sonic Boom: Rise of Lyric – SEGA – $49.99
LEGO Batman 3: Beyond Gotham – WB Games – $49.99
Wii U eShop
Tengami – Nyamyam – $9.99
A World of Keflings – NinjaBee – $9.99
Xavier – Prison Lab – $4.99
Wii U Virtual Console
Mario Kart: Super Circuit (GBA) – Nintendo – $7.99
Wii U eShop Temporary Discounts
Until November 24th
BIT.TRIP Presents: Runner 2 Future Legend of Rhythm Alien – Choice Provisions – $4.99 ($14.99) *From November 14th
Until December 4th
Abyss – EnjoyUp Games -$1.49 ($1.99)
Until December 20th
Chubbins – Dahku Creations – $2.99 ($3.99)
Wii U DLC
Mario Kart 8 DLC Pack 1 – Nintendo – $7.99
Wii U Free Demo
Flowerworks HD: Follie's Adventure – Nocturnal

Wii U Retail Downloads
LEGO Batman 3: Beyond Gotham – WB Games – €49.99 / £44.99 *Available from  Nov14th.
Wii U eShop
Tengami – Nyamyam – €7.99 / £6.99
Paper Monsters Recut – Mobot Studios – €6.49 / £5.49
Meine Ersten Mitsing-Lieder – Ringzero Games – €9.99 *German only release
Wii U Virtual Console
Castlevania: Dracula X (SNES) – Konami – €7.99 / £5.49
Golden Sun: The Lost Age (GBA) – Nintendo – €6.99 / £6.29
Wii U DLC
Mario Kart 8 DLC Pack 1 – Nintendo – £7.00 / €7.99
Wii U Free Demo
Flowerworks HD: Follie's Adventure – Nocturnal

3DS Retail Downloads
Sonic Boom: Shattered Crystal – SEGA – $39.99
LEGO Batman 3: Beyond Gotham – WB Games – $29.99
Teenage Mutant Ninja Turtles: Danger of the Ooze – Activision – $29.99
Tetris Ultimate – Ubisoft – $19.99
Winx Club: Saving Alfea – Little Orbit – $29.99
3DS eShop
Picross e5 – Jupiter – $5.99
Castle Conqueror Defender – CIRCLE Entertainment – $4.99
I've Got To Run: Complete Edition – 4 Corner Games – $4.99
Scarygirl Illustration Kit – Square One Games Inc. – $5.99
3DS Virtual Console
Pokémon Trading Card Game (GBC) – Nintendo – $5.99
3DS eShop Temporary Discounts
Until November 27th
Until December 4th
Darts Up 3D – EnjoyUp Games -$0.99 ($2.99)
Soccer Up 3D – EnjoyUp Games – $1.99 ($6.99)
3DS Free Demo

3DS Retail Downloads
LEGO Batman 3: Beyond Gotham – WB Games – €39.99 / £39.99
Top Model 3D – Treva Entertainment – €29.99 / £24.99
3DS eShop
Picross e5 – Jupiter – €5.00 / £4.50
Vacation Adventures: Park Ranger 2 – Microvalue – €4.99 / £4.49
3DS Virtual Console
Bionic Commando: Elite Forces (GBC) – Nintendo – €4.99 / £4.49
3DS eShop Temporary Discounts
Until December 11th
AiRace Xeno – Qubic Games – €1.69 / £1.59 (€2.49 / £2.29)
Until December 26th
Until January 8th
Johnny Hotshot – UFO Interactive – €4.19 / £3.77 (€5.99 / £5.39)
Balloon Pop Remix – UFO Interactive – €5.59 / £4.99 (€7.99 / £7.19)
Johnny Kung Fu – UFO Interactive – €4.19 / £3.77 (€5.99 / £5.39)
Samurai Sword Destiny – UFO Interactive – €4.19 / £3.77 (€5.99 / £5.39)
Zombie Slayer Diox – UFO Interactive – €4.19 / £3.77 (€5.99 / £5.39)
3DS eShop Permanent Discounts
3DS Home Theme
Polka Dots – Yellow & Blue – Nintendo – €0.99 / £0.89
Dots & Stripes – Pink & Green – Nintendo – €0.99 / £0.89
Stars – Purple & Yellow – Nintendo – €0.99 / £0.89
Gingham – Aqua Blue – Nintendo – €0.99 / £0.89
Stripes – Pink & White Diagonal – Nintendo – €0.99 / £0.89
DSiWare
Fishdom – Joindots – 500 Nintendo Points ($4.99)
3DS Free Demo
AiRace Xeno – Qubic Games