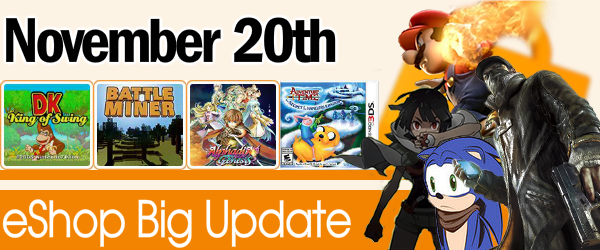 – 3DS Winter 2014 Bonus Game Promotion: Link
If you register your 2DS / 3DS / 3DS XL system and a copy of Super Smash Bros. for 3DS, Pokémon Omega Ruby or Pokémon Alpha Sapphire, you will get a free game! Seven big retail games to choose, being available until January 12th 2015.
– Angry Bunnies Promotion (Europe) (LAST WEEK!)
Owning Angry Bunnies: Colossal Carrot Crusade on your Wii U you can get Angry Bunnies for free on your 3DS with the same NNID. If you own the 3DS title, you can get the Wii U one for free. It will finish this November 30th.
– Free Mighty Gunvolt (LAST WEEK!)
If you buy Azure Strike Gunvolt you will get a free copy of Mighty Gunvolt.
– Darts UP 3D Promotion [Permanent]
From EnjoyUp Games, if you bought Darts Up on your Wii U (and have linked your 3DS with the same Nintendo Network ID), you can get Darts Up 3D for €0.49 / £0.45 (€2.99 / £2.69).
– Super Smash Bros. Mewtwo and OST Club Nintendo Promotion (North America)
Buy both Super Smash Bros. for 3DS and Wii U before January 13th and get a soundtrack CD, and before March 31st for the Mewtwo DLC. Link.
– The rest of the sales!
If you want to see a list with all the sales includes, please follow this link.
---

Wii U Retail Downloads
Super Smash Bros. for Wii U – Nintendo – $59.99 *From Nov 21st
Watch Dogs – Ubisoft – $59.99
The Amazing Spider-Man Ultimate Edition – Activision – $39.99
The Amazing Spider-Man 2 – Activision – $49.99
The Penguins of Madagascar – Little Orbit – $39.99
Wii U eShop
Alphadia Genesis – Natsume – $14.99
Snake Den – Game Bytes – $3.99
Wii U Virtual Console
DK: King of Swing (GBA) – Nintendo – $6.99
Wii U eShop Temporary Discounts
Until November 30th
Until December 2nd
Jeopardy – Nordic Games – 9.99 ($39.99) *From Nov 25th
Wheel of Fortune – Nordic Games – 9.99 ($39.99) *From Nov 25th
Until December 3rd
PING 1.5+ – NAMI TENTOU MUSHI – $2.49 ($4.99) *From Nov 26th
Wii U DLC
Watch Dogs: Conspiracy – Ubisoft – $4.99
Watch Dogs: Access Granted – Ubisoft – $6.99
Wii U Free Demo

Wii U Retail Downloads
Watch Dogs – Ubisoft – €59.99 / £49.99
Sonic Boom: Rise of Lyric – Sega – €49.99 / £39.99
Wii U eShop
Wii U Virtual Console
Wild Guns (SNES) – Natsume – €7.99 / £5.49
Natsume Championship Wrestling (SNES) – Natsume – €7.99 / £5.49
Wii U DLC
Watch Dogs: Conspiracy – Ubisoft – €4.99 / £3.99
Watch Dogs: Access Granted – Ubisoft – €6.99 / £5.49

3DS Retail Downloads
Pokémon Omega Ruby – Nintendo – $39.99 *From Nov 21st
Pokémon Alpha Sapphire – Nintendo – $39.99 *From Nov 21st
Adventure Time: The Secret of the Nameless Kingdom – Little Orbit – $29.99
The Amazing Spider-Man – Activision – $29.99
The Amazing Spider-Man 2 – Activision – $29.99
The Penguins of Madagascar – Little Orbit – $29.99
Teenage Mutant Ninja Turtles – Activision – $29.99
3DS eShop
Battleminer – Wobbly Tooth – $9.99
3DS Home Theme
Pokémon: ONEMURI Pikachu – Nintendo – $1.99
Pokémon: Primal Groudon/Primal Kyogre – Nintendo – $1.99
Super Smash Bros.: Theme 1 – Nintendo – $1.99
Super Smash Bros.: Theme 2 – Nintendo – $1.99
Super Smash Bros.: Theme 3 – Nintendo – $1.99
Super Smash Bros.: Theme 4 – Nintendo – $1.99
3DS eShop Temporary Discounts
Until December 1st
Yumi's Odd Odyssey – Natsume – 9.99 ($29.99) *From Nov 25th
Harvest Moon 3D: The Tale of Two Towns – Natsume – 9.99 ($29.99) *From Nov 25th
Classic Games Overload: Card and Puzzle Edition – Telegames Inc – $19.99 ($29.99)
Until December 4th
The Keep – Cinemax – $7.99 ($12.99)
Real Heroes Firefighter 3D – Reef Entertainment – $4.99 ($9.99) *From Nov 25th
Until December 10th
Big Hero 6 Battle in the Bay – Game Mill Entertainment – $19.99 ($29.99) *From Nov 26th
Disney Frozen: Olaf's Quest – Avanquest Software – $19.99 ($29.99) *From Nov 26th
3DS Free Demo
Fishdom H20: A Hidden Odyssey – Cypronia

3DS Retail Downloads
Sonic Boom: Shattered Crystal – Sega – €39.99 / £34.99
Tetris Ultimate – Ubisoft – €19.99 / £15.99
Asterix: The Mansions of the Gods – Bigben Interactive – €34.99 / £29.99
3DS eShop
101 Pony Pets 3D – Selectsoft – €4.00 / £3.59
3DS Virtual Console
Lufia: The Legend Returns (GBC) – Natsume – €4.99 / £4.49
3DS DLC
3DS eShop Temporary Discounts
Until December 11th
Wakedas – Circle Entertainment – €1.99 / £1.79 (€2.99 / £2.50)
World Conqueror 3D – Circle Entertainment, €3.99 / £3.59 (€4.99 / £4.49)
3DS Home Theme
Pokémon: ONEMURI Pikachu – Nintendo – €1.99 / £1.79 

Pokémon: Primal Groudon/Primal Kyogre – Nintendo – €1.99 / £1.79 

Sonic Boom Theme – Nintendo – free 

Super Mario: Pastel Pink – Nintendo – €1.99 / £1.79 

Super Mario: Neon Green – Nintendo – €1.99 / £1.79 

Super Mario: Blue – Nintendo – €1.99 / £1.79
DSiWare
Around the World in 80 Days – DSiWare – 800 Nintendo Points
3DS Free Demo
Asterix: The Mansions of the Gods – Bigben Interactive