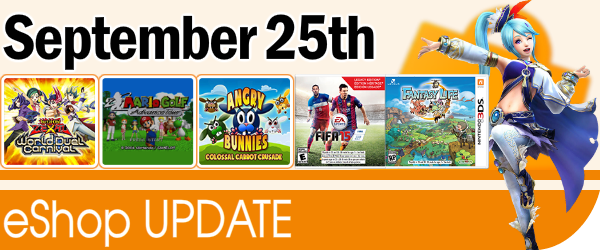 Another week, another update for the Nintendo eShop. Like we usually do, here is a list of the new releases and sales, as well as the old sales that are still live (it appears that we're the only site that does this on the Internet).
Before getting to the list, I should mention this week's awesome promotions and sales: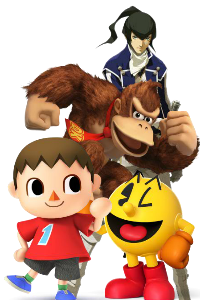 North American Smash Sale – Week 4: (Last Week!)
Seven retail games and a great bunch of Virtual Console games are being offered featuring Kirby, Star Fox, Donkey Kong, Pacman and Animal Crossing!. LINK.
Atlus Sale: (Last days!)
Seven titles are on sale for your 3DS! You can never go wrong with Atlus. LINK.
Also, remember that buying Azure Strike Gunvolt will get you a free copy of Mighty Gunvolt.
Europe will be getting a free game promotion too!

Wii U Retail
Hyrule Warriors – Nintendo – $59.99 (Available from September 26th)
Wii U eShop
Angry Bunnies: Colossal Carrot Crusade – Cypronia – $8.99
Darts Up – EnjoyUp Games – $2.49
Wii U Virtual Console
Mario Golf: Advance Tour (GBA) – Nintendo – $6.99
Wii U eShop Temporary Discounts
Until September 30th
Color Zen Kids – Cypronia – $2.79 ($3.99)
My Style Studio: Hair Salon – Cypronia – $3.99 ($4.99)
Fit Music – O2 GAMES – $13.90 ($29.99)
Luve Me Buddies Wonderland – O2 GAMES – $12.90 ($19.99)
Until October 1st
Unepic – EnjoyUp Games – $7.99 ($9.99)
Until October 6th
Armillo – Fuzzy Wuzzy Games – $4.99 ($7.99)
Until October 9th
Swords & Soldiers – Two Tribes – $1.99 ($2.99)
Until October 12th
Spin The Bottle: Bumpie's Party – KnapNok Games – $8.39 ($11.99)
Wii U Free Demo:
Spin The Bottle: Bumpie's Party – KnapNok Games

Wii U eShop
Art of Balance – Shin'en Multimedia – €8.99 / £7.15
Angry Bunnies: Colossal Carrot Crusade – Cypronia – €6.99 / £5.99
Wii U Virtual Console
Nobunaga's Ambition (SNES) – Koei – €7.99 / £5.49
Wii U Promotions:
If you own Art of Balance TOUCH! on your 3DS (same NNID) you will get Art of Balance for €6.70 / £5.35
Wii U eShop Temporary Discounts
Until October 2nd
Resident Evil Revelations – Capcom – €19.99 / £15.99 (€49.99 / £39.99)
DuckTales: Remastered – Capcom – €6.74 / £5.39 (€14.99 / £11.99)
Dungeons & Dragons: Chronicles of Mystara – Capcom – €6.74 / £5.39 (€14.99 / £11.99)
Until October 5th
Armillo – Fuzzy Wuzzy Games – €3.69 / £2.99 (€6.00 / £5.50)
Until October 9th
Swords & Soldiers – Two Tribes – €1.99 / £1.77 (2.99 / £2.69)
Until October 12th
Spin The Bottle: Bumpie's Party – KnapNok Games -€5.99 / £5.60 (€8.99 / £8.00)
Wii U Free Demo:
Spin The Bottle: Bumpie's Party – KnapNok Games

3DS eShop
Yu-Gi-Oh! Zexal World Duel Carnival – Konami – $19.99
3DS eShop Temporary Discounts
Until October 2nd
Parking Star 3D – CIRCLE Entertainment – $1.99 ($2.99)
Strike Force Foxx – Big John Games – $2.49 ($4.99)
Coaster Creator 3D – Big John Games – $4.99 ($9.99)
Ohno Oddysey – Big John Games – $2.99 ($5.99)
Big Bass Arcade – Big John Games – $3.49 ($6.99)
Smash Bowling 3D – Big John Games – $2.49 ($4.99)
Moon Chronicles – Renegade Kid – $5.99 ($8.99)
Mutant Mudds – Renegade Kid – $5.99 ($8.99)
Until October 6th
Classic Games Overload: Card & Puzzle Edition – Telegames – $14.99 – ($29.99)
Until October 9th
Glory of Generals – CIRCLE Entertainment – $6.99 ($9.99)

3DS eShop
Demon King Box – CIRCLE Entertainment – €3.99 / £2.99
KORG DSN-12 – Detune – €29.99 / £24.99
3DS Virtual Console
Fantasy Life – Nintendo, €39.99 / £34.99
3DS Retail Downloads:
Theatrhythm Final Fantasy: Curtain Call – Square Enix – €39.99 / £29.99
Tenkai Knights: Brave Battle – Bandai Namco, €34.99 / £24.99
FIFA 15 – EA, €34.99 / £24.99 (Available from September 26th)
Violetta: Rhythm and Music – Little Orbit – €29.99 / £24.99
3DS DLC:
Fantasy Life: Origin Island Expansion Pack – Nintendo – €7.99 / £7.19
3DS eShop Temporary Discounts
Until October 2nd
Resident Evil Revelations – Capcom – €13.49 / £11.24 (€29.99 / £24.99)
Resident Evil: The Mercenaries 3D – Capcom – €4.49 / £4.04 / (€9.99 / £8.99)
Super Street Fighter IV 3D Edition – Capcom – €9.99 / £8.99 (€19.99 / £17.99)
Phoenix Wright: Ace Attorney – Dual Destinies – Capcom – €14.99 / £11.99 (€24.99 / £19.99)
Until October 9th
Parking Star 3D – CIRCLE Entertainment – €1.99 / £1.79 (€2.99 / £2.49)
Quell Reflect – CIRCLE Entertainment – €2.99 / £2.69 (€3.99 / £3.49)
3D Game Collection – Joindots – €5.99 / £5.99 (€13.99 / £11.99)
Funfair Party Games – Joindots – €6.99 / £6.99 (€19.99 / £17.99)
Gardenscapes – Joindots – €5.99 / £5.99 (€14.99 / £14.99)
Jewel Match 3 – Joindots – €5.99 / £4.99 (€6.99 / £5.99)
Legends of Oz: Dorothy's Return – Avanquest – £9.99 (£19.99)
Until October 16th
Real Heroes Firefighter 3D Download Version – Zordix AB – €4.99 / £4.49 (€9.99 / £8.99)
3D MahJongg – Joindots – €3.99 / £3.29 (€4.99 / £4.49)
Murder on the Titanic – Joindots – €5.99 / £4.99 (€14.99 / £14.99)
Secret Agent Files: Miami – Joindots – €6.99 / £5.79 (€7.99 / £6.99)
Atlantic Quest – Joindots – €5.99 / £4.99 (€6.99 / £5.99)
Until November 12th
Bibi & Tina – Das Spiel zum Kinofilm – Kiddinx, €24.99 (€34.99)
3DS eShop Permanent Discounts
Ben 10 Omniverse 2 – Bandai Namco – €19.99 / £19.99 (€34.99 / £28.49)
Turbo: Super Stunt Squad – Bandai Namco – €19.99 / £19.99 (€34.99 / £28.49)
Farming Simulator 2014 – Focus Home Interactive – €29.99 / £19.99 (€34.99 / £29.99
DSI Ware