Another week, another update for the Nintendo eShop. Like we usually do, here is a list of the new releases and sales, as well as the old sales that are still live (it appears that we're the only site that does this on the Internet).
Before getting to the list, I should mention this week's awesome promotions and sales: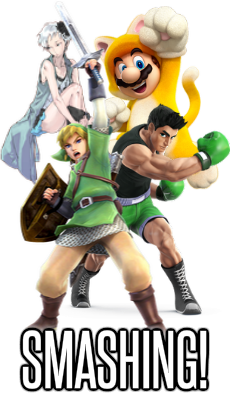 North American Smash Sale – Week 1:
Four retail titles and six virtual console games are discounted for the 3DS and Wii U due the release of Super Smash Bros. 4 for Nintendo 3DS, where both 3D Mario games are included (hard to skip). LINK
Zelda Weeks Sales on Europe:
Several titles will be discounted this month due the release of Hyrule Warriors, included the new release itself. Zelda fans, this is your golden chance. LINK (bad pun uh?)
Rising Star Games 10th Anniversary
The famous publisher is celebrating ten years with an awesome sale, mostly if you live on Europe. LINK
Also, remember that buying Azure Strike Gunvolt will get you a free copy of Mighty Gunvolt.

Wii U eShop
Ice Cream Surfer – Dolores Entertainment – $5.00
Cubemen 2 – Nnooo – $7.99
Wii U Virtual Console
Nobunaga's Ambition (SNES) – Koei – $7.99
Wii U eShop Permament Discounts

Wii U eShop
Cubemen 2 – Nnooo – €7.99 / £6.99
Wii U Virtual Console
Gargoyle's Quest II: The Demon Darkness (NES) – Capcom – €4.99 / £3.49
Castlevania III: Dracula's Curse (NES) – Konami – €4.99 / £3.49
Wii U eShop Temporary Discounts
Until August 28th
Assassin's Creed III – Ubisoft – €9.99 / £7.99 (€19.99 / £15.99)
Assassin's Creed IV Black Flag – Ubisoft – €14.99 / £9.99 (€29.99 / £19.99)
Marvel Avengers: Battle for Earth – Ubisoft – €9.99 / £7.99 (€19.99 / £15.99)
Rabbids Land – Ubisoft – €9.99 / £7.99 (€19.99 / £15.99)
Rayman Legends – Ubisoft – €14.99 / £11.99 (€29.99 / £23.99)
The Smurfs 2 – Ubisoft – €19.99 / £15.99 (€39.99 / £31.99)
Tom Clancy's Splinter Cell Blacklist – Ubisoft – €14.99 / £9.99 (€29.99 / £19.99)
ZombiU – Ubisoft – €9.99 / £7.99 (€19.99 / £15.99)
Just Dance 2014 – Ubisoft – €14.99 / £9.99 (€29.99 / £19.99)
Child of Light – Ubisoft – €9.99 / £7.99 (€14.99 / £11.99)
Gravity Badgers – Wales Interactive – €3.49 / £3.49 (€4.99 / £4.99)
Until September 11th
Nano Assault NEO – Shin'en Multimedia – €7.49 / £6.70 (€9.99 / £8.99)
Chasing Aurora – Broken Rules – €3.49 / £2.99 (€6.99 / £5.99)

3DS eShop
Tappingo 2 – Goodbye Galaxy Games – $2.99
3DS Virtual Console
Street Fighter 2010: The Final Fight (NES) – Capcom – $4.99
3DS eShop Temporary Discounts
Until September 7th
AeternoBlade – Corecell Technology – $9.99 ($14.99)
Until September 11th
Quell Reflect – CIRCLE Entertainment – $2.79 ($3.99)
Nano Assault EX – Shin'en Multimedia – $7.49 ($9.99)
Until September 15th
Until September 17th
Soccer Up 3D – EnjoyUp Games – $1.99 ($6.99)
Until September 18th
Nano Assault EX – Shin'en Multimedia – $7.49 ($9.99)
Until September 24th
My Vet Practice 3D In The Country – TREVA Entertainment – $12.99 ($29.99)
My Baby Pet Hotel 3D – TREVA Entertainment – $15.99 ($29.99)
Until September 25th
World Conqueror 3D – CIRCLE Entertainment – $3.99 ($5.99)
Until September 27th
Boulder Dash-XL 3D – Reef Entertainment – $1.69 ($4.99)
Super Little Acorns 3D Turbo – Pixel Toys – $3.95 (normally $7.99)
3DS Free Demo

3DS eShop
3DS Virtual Console
Mega Man Xtreme (GBC) – Capcom – €4.99 / £4.49
3DS eShop Temporary Discounts
Until September 5th
Yu-Gi-Oh! Zexal World Duel Carnival – Konami – €19.95 / £17.99 (€39.95 / £34.99)
Until September 11th
Nano Assault EX – Shin'en Multimedia – €7.49 / £6.35 (€9.99 / £8.49)
Secrets of the Titanic – Avanquest – €4.99 / £4.99 (€10.99 / £9.99)
Football Up 3D – EnjoyUp Games – €1.74 / £1.49 €6.99 / £5.99)
Code of Princess – Agatsuma – €20.99 / £17.00 €29.99 / £24.99)
Sayonara UmiharaKawase – Agatsuma – €12.00 / £9.99 €24.99 / £19.99)
Super Little Acorns 3D – Pixel Toys – €2.49 / £2.49 €4.99 / £4.99)
Wakedas – CIRCLE Entertainment – €1.99 / £1.79 €2.99 / £2.50)
Witch & Hero – CIRCLE Entertainment – €1.99 / £1.79 €4.00 / £3.60)
World Conqueror 3D – CIRCLE Entertainment – €3.99 / £3.59 €4.99 / £4.29)
Until September 18th
Aqua Moto Racing 3D – Zordix AB – €5.99 / £5.39 (€7.99 / £7.19)
Until September 24th
3DS Free Demo
Theatrhythm Final Fantasy: Curtain Call – Square Enix
DSiWare
Rytmik World Music – Cinemax – 200 Nintendo Points